Keep these Asian pantry essentials in your kitchen to quickly and easily whip up your favorite Asian dishes at home at any time!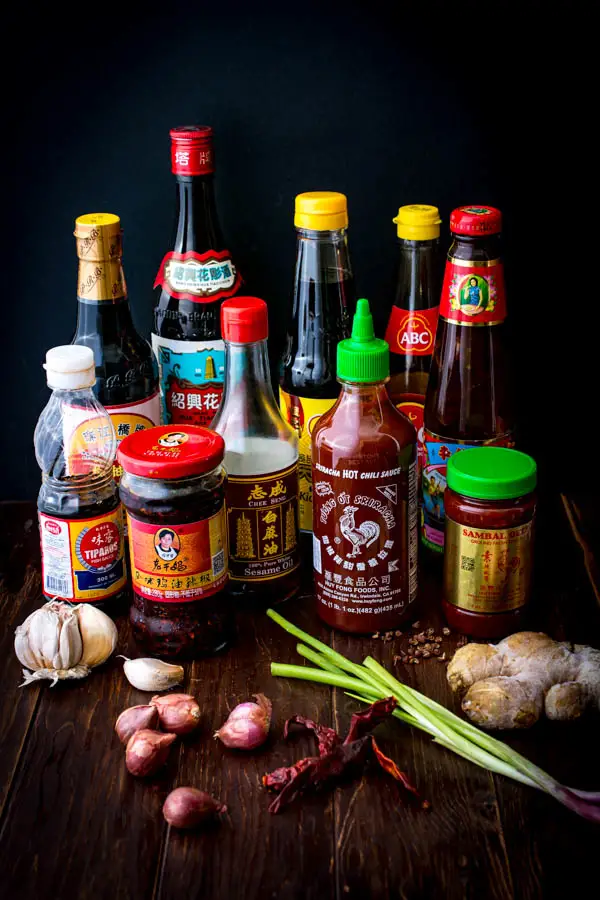 If you are looking to expand your Asian cooking repertoire, it is a good idea to keep your pantry stocked with some essential staple ingredients so you can whip up most Asian dishes quickly at any time.
I've compiled a list below of all the ingredients that you will frequently find in most Asian recipes.
Most if not all of these ingredients can be found at your nearby supermarket (or online!) but if you need to venture out to your local Asian grocery store, I've prepared a guide on How to Shop at an Asian Grocery Store that you can check out (click here).
It's not necessary to purchase ALL of these items in one shopping trip. Start with a good soy sauce, Shaoxing wine, sesame oil, oyster sauce, and cornstarch, then add to your collection as you try more recipes.
Do you have the right tools in your kitchen for Asian cooking? Click here for a list of my top 10 Asian kitchen essential tools that I recommend.
Ready to get cooking? Here is a collection of over 45 Asian recipes that you can cook from your pantry!
SAUCES
Soy sauce is made with fermented soy beans, wheat, and water. It is very salty and has a deep flavor. It is the base used for many Asian sauces, and can also be used as a marinade or dipping sauce. When a recipe calls for soy sauce, it refers to light soy sauce. Light soy sauce, also known as thin soy sauce, is the most commonly used version. It's what is found on the dining tables at most Asian restaurants.
Because soy sauce is such an important ingredient in any recipe, it is a good idea to find and stick with a good and trusted brand that you love. The brand that I recommend is Pearl River Bridge Light Soy Sauce.
Soy sauce can be stored at room temperature.
Dark soy sauce gives any dish or sauce a rich flavor and a dark color. It is sweeter than light soy sauce as it contains molasses. It is not a condensed version of light soy sauce so it cannot be diluted and used in place of light soy sauce.
In most dishes, dark soy sauce is used more for its color rather than flavor. I also recommend the Pearl River Bridge brand dark soy sauce.
Dark soy sauce can also be kept at room temperature.
Sesame oil is a very aromatic oil with a strong flavor so a little goes a long way! It is normally used in marinades, in sauces, or as a finishing ingredient; not for deep-frying due to its very low smoke point.
The type of sesame oil that is typically used for Asian cooking is the dark-colored toasted sesame seed oil. Choose a sesame oil that is pure and not a blend that contains other oils as fillers.
Sesame oil can be stored at room temperature but do keep in mind that it can go rancid. Click here for a list of recipes that you can prepare using sesame oil.
Shaoxing wine is a Chinese rice wine made from fermented glutinous rice. It is used mostly for sauces and marinades. A very good, high-quality Shaoxing wine can be enjoyed as a drink, but the Shaoxing wine that you find in the bottled sauces section at your local Asian supermarket should not be consumed in that manner. That version is meant only for cooking.
If you are not able to find Shaoxing wine, you can use a dry sherry in its place.
Shaoxing can be stored at room temperature.
Fish sauce is a common ingredient in Southeast Asian cooking. It is made with fermented anchovies, krill, or other types of seafood like crab and shrimp.
It has a very distinct pungent aroma and a very salty yet savory taste. It adds an umami flavor to dishes such as Thai Larb and Pad Thai. Fish sauce is normally diluted slightly, then mixed with sugar, other sauces and perhaps a splash of vinegar to tame its "fishy" odor and taste. It is certainly not meant to be consumed on its own.
Fish sauce can be safely stored in your kitchen pantry at room temperature.
Oyster sauce is a dark and very thick sauce made with oyster extract and other seasonings. It lends a rich umami flavor to a dish. Salty, slightly sweet and full of flavor.
Oyster sauce is an incredibly versatile sauce that can be used in marinades, dipping sauces, stir-fried noodles, and even poured right over blanched or stir-fried vegetables.
Vegetarian versions of oyster sauce made with mushrooms are also available. Keep oyster sauce in the refrigerator once you open the bottle.
Rice vinegar is made from fermented rice. It is milder and sweeter than white distilled vinegar, which is why it should not be used interchangeably.
Rice vinegar is a crucial ingredient in tangy dishes like sweet-and-sour, salad dressings and pickling brines for dishes like Thai Cucumber Salad. It adds a very bright and zesty flavor to various dishes.
There are several types of rice vinegar, the most common of which is white rice vinegar. There are also rice vinegars in darker shades made from brown rice, red rice, or black rice. They all have different flavor profiles. Both brown and white rice vinegar can be used interchangeably but reduce the amount of black or red rice vinegar if you're using it in place of white rice vinegar in a recipe.
Rice vinegar can be stored at room temperature.
This popular spicy sauce is a combination of chili, garlic, sugar, salt, and vinegar. It is a good all-purpose chili sauce and condiment. Add it to just about any dish when you're in the mood for something spicy!
It is also sometimes referred to as "rooster sauce" because of the image of the rooster on the bottle from the most popular brand of sriracha sauce in the United States, Huy Fong Foods.
Sriracha sauce can be stored in your kitchen pantry at room temperature.
Hoisin Sauce adds a sweet and savory dimension to a dish. It is a thick and dark reddish-brown sauce made from fermented soy beans, five-spice powder, garlic, sugar, and other spices. It is famously used as a dipping sauce for Peking Duck and Moo Shu Pork.
It is often used to add flavor to sauces and as a barbecue marinade and sauce in Chinese dishes.
Hoisin sauce should be refrigerated once the bottle or jar is opened.
SPICES
This aromatic spice mix is usually a blend of cinnamon, star anise, fennel, cloves, and a hint of Szechuan peppercorns for a warm flavor. Different brands tend to add their own spin on this spice so there might be a slight variance in flavor.
Chinese Five Spice Powder is perfect as a dry rub on meats for barbecue but can also be added to sauces. It gives Chinese BBQ Pork (Char Siew) that signature flavor.
It is highly aromatic so very little is needed to convey loads of flavor.
Cornstarch, also known as corn flour, is a white starchy powder extracted from corn.
In Chinese cooking, a blend of cornstarch and water is normally used to thicken sauces and soups. Cornstarch is also used in Chinese cooking for marinating meats as part of the "velveting" process to seal in its moisture and flavor.
Finally, cornstarch can also be used for dusting foods for deep-frying for a crispy texture.
White pepper is a bit spicier than black pepper but has a milder flavor, allowing the flavors of the main ingredients to really shine. It is normally sold as a fine white powder.
Both black and white pepper come from the same plant. Black pepper is made with dried unripe berries whereas white pepper is made with ripe berries. These ripe berries are then soaked in water, then their skins removed.
DRIED FOODS
Rice is an important staple in Asian cuisine. Unless it is a noodle dish, most Asian dishes are enjoyed over rice. The most common type of rice used in Asia cuisine is white Jasmine rice. It is my favorite type of rice as it has the perfect consistency and an amazing aroma to accompany most dishes.
The shorter the grain of rice, the more sticky and starchy in texture when cooked. Short grain rice is normally used for sushi due to its sticky texture. Jasmine rice is considered medium to long grain.
Glutinous rice is also popular in Asian cuisine and looks very similar to white rice, so be sure the check the label to make sure that you're buying the right type of rice. Glutinous rice is extremely sticky and used for dishes like Thai Mango and Sticky Rice. It is not used for everyday dishes.
Noodles are a fantastic staple food because they last a long time in your pantry. You can make countless noodle soup dishes as well as stir-fried noodle dishes.
At most supermarkets, you will be able to find a variety of noodles such as rice noodles, egg noodles, buckwheat noodles, brown rice noodles…the list goes on. Some Asian supermarkets have entire aisles just for noodles! You'll find noodles in various sizes and thicknesses. Egg noodles and rice noodles are the most common and versatile types of noodles so I recommend stocking up with those to start.
Dried noodles are also very inexpensive; a great way to stretch your dollar!
If you love spicy foods, dried red chili is a great ingredient to keep in your pantry.
These chilies can be used whole (like in Kung Pao dishes), broken up into pieces for spicy soups and stir-fries, or pureed for sauces or curry pastes.
When using them for sauces or curry pastes, be sure to soak the chilies for a few minutes in warm water before using. Remove the seeds to reduce the spice level in the dish. Be sure to wear gloves when cutting these chilies as the chili oils will irritate your skin. If you do not have gloves, wash your hands thoroughly with soap after handling the chilies.
FRESH INGREDIENTS
Scallions
Scallions (also known as green onions/spring onions) are used in a lot of Asian dishes. They can be used in a recipe as an ingredient but they are often chopped and used as a garnish. Sprinkling freshly chopped scallions on top of a dish just before serving adds a bit of color as well as flavor to a dish.
They have a very delicate onion flavor that often complements instead of overpowering a dish.
Ginger
Ginger can be spicy when eaten raw but when cooked, it imparts an amazing aroma to any dish. It is an essential flavor in Asian cuisine.
To peel ginger, use the side of a metal spoon to scrape the skin off. It can then be grated, minced, sliced, or julienned, depending on how it will be used in the recipe. For stir-fries, ginger is normally minced or julienned then tossed into the wok with garlic to infuse the cooking oil before the rest of the ingredients are tossed in.
In braised dishes and soups, thicker slices of ginger are used to slowly impart its flavor then removed just before serving.
Garlic
Garlic is a common ingredient used in many cuisines and Asian cuisine is no exception. It adds incredible flavor to any savory dish.
Minced garlic is normally added to the wok with the cooking oil in order to infuse the oil in preparation for stir-frying.
The combination of garlic, scallions, and ginger is affectionately referred to as the "Trinity of Chinese Cooking" as these ingredients are very commonly used; often together.
Shallots
Shallots are a type of onion, only much smaller and milder in flavor.
Keep in mind that the shallots normally used in Asian cooking are much smaller than the slightly larger variety used in French cooking. When an Asian recipe calls for shallots, if you're using the large kind, reduce the amount that you will add to the recipe.
In Asia, shallots are sliced very thin then deep-fried to make a delicious crunchy topping.