A guide on how to navigate your local Asian grocery store like a pro!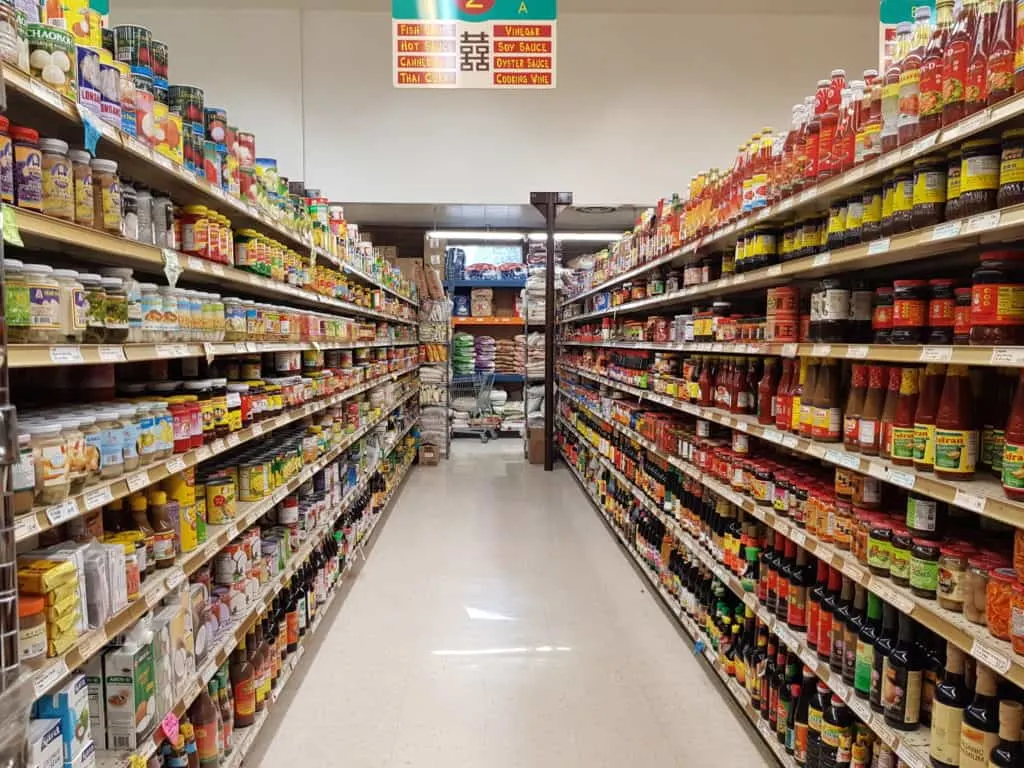 If you are planning to expand your repertoire in Asian cooking, getting familiar with your local Asian grocery store is a must.
If you have an Asian grocery store in your area but have been intimidated by all of the strange food items (or maybe you've been too intimidated to even walk in!), this guide is for you. I will be sharing some tips on how to navigate your local Asian grocery store with confidence.
Although you may find some helpful information that applies to supermarkets in Asian countries, this article is geared towards how to shop at Asian grocery stores located in Western Countries such as the United States, UK, etc.
Visiting an Asian grocery store allows you to experience the foods and cuisines of multiple Asian countries such as China, India, Malaysia, Japan, Korea, Vietnam, and the Philippines. A great way to broaden your culinary horizons!
You may also find that the prices at some Asian supermarkets are lower than at your local supermarkets! I have found that vegetables, in particular, are often lower in price compared to other supermarkets.
How to Find an Asian Grocery Store in your area
There may be more than one Asian grocery store in your area. I recommend visiting as many as possible so you get a better sense of what they carry, their store layout, etc. Find one or two stores that you are most comfortable with shopping at.
If you're new to the area or haven't found any Asian supermarkets yet, you can start by doing a quick Google search of "Asian grocery stores near me". You may also ask for recommendations from friends, or online communities in your area.
Keep in mind that certain stores may focus on foods only from certain regions like Japan or Korea, so you may not be able to find certain items from India, for example.
Before you visit your Asian Market
Just like shopping at any regular grocery store, it certainly helps to be prepared. Plan your meals in advance so you know exactly what you need for your shopping list when you go grocery shopping.
Either print out the recipe (preferably with the photo) and take it with you to the Asian grocery store, or have the recipe and photo ready on your phone. If you need assistance finding any ingredients, just ask any store employee or even the store owner. They are usually more than happy and willing to assist you.
What about the Language Barrier?
If there is a language barrier, use an app like Google Translate to communicate with the store employee or owner.
Show them the recipe and the photo (from the printout or on your phone) of the dish that you are planning on making. They may even be able to offer you some helpful tips and advice in preparing the dish!
There have been a few instances where the store owner has been able to tell me which brands of certain products that restaurants in the area tend to buy.
On some items at the Asian grocery store, you may not find any English translation for the ingredients or instructions on the label or packaging. For certain languages like Chinese and Korean, the Google Translate app on your phone can use the camera feature to "read" the characters and give you the translation in English right on the image!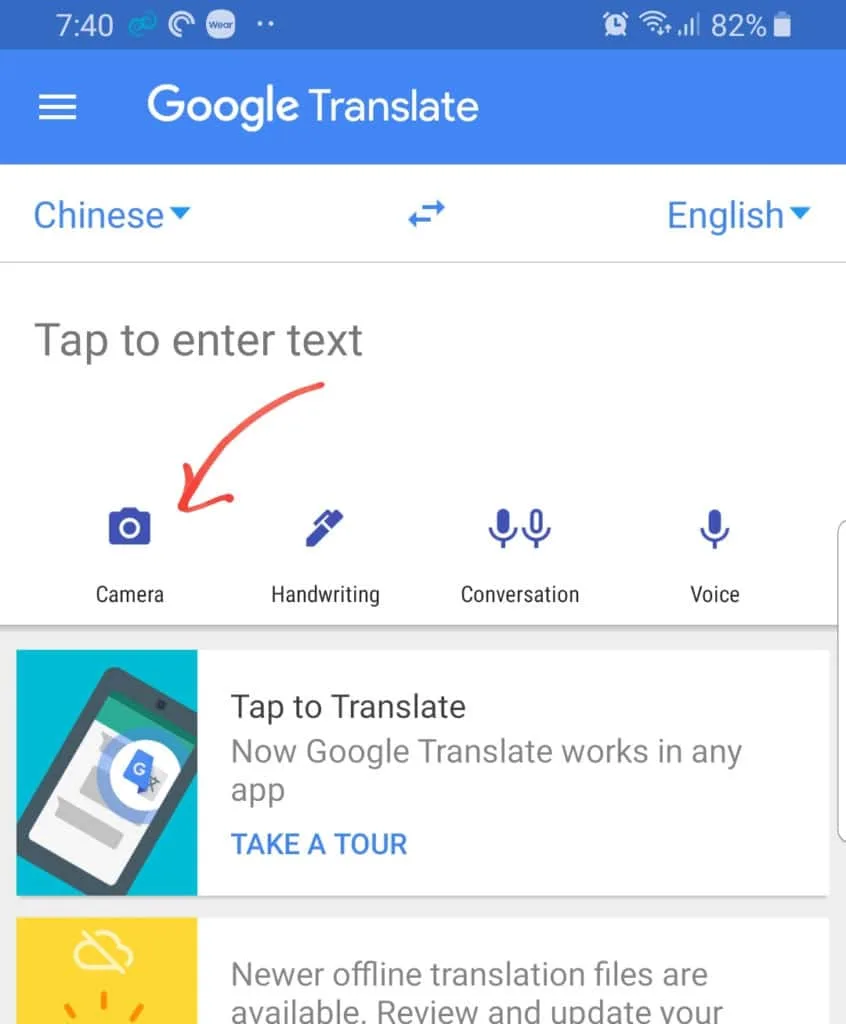 Of course, the translation is not always going to be 100% accurate (and absolutely hilarious at times!), but at least it will give you a rough idea as to what it means.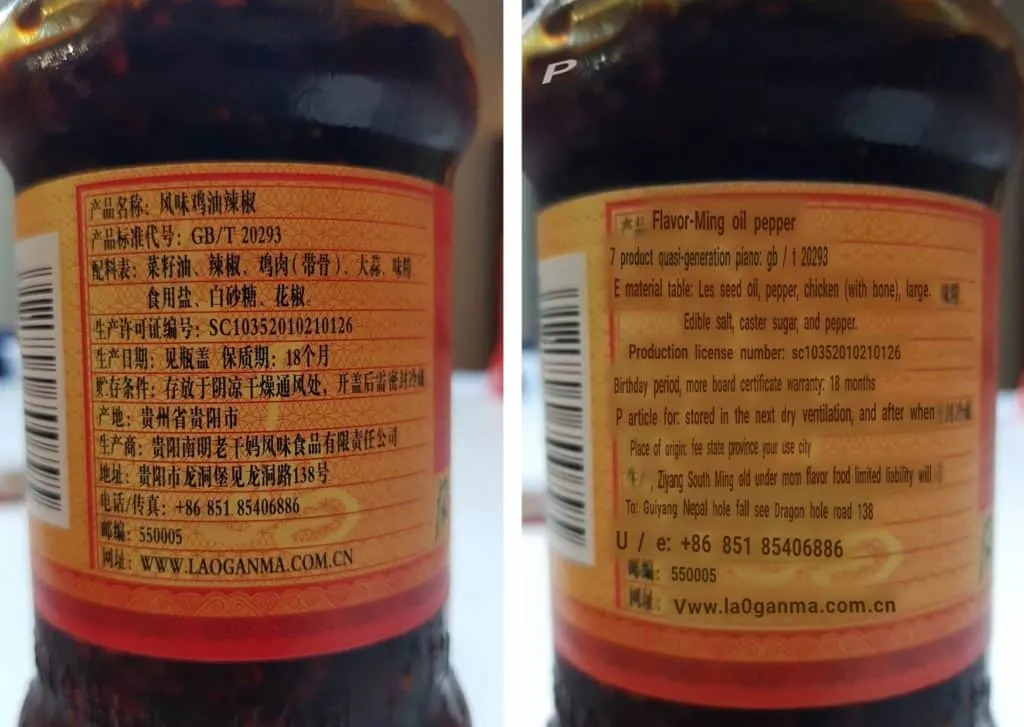 Every Asian grocery store has its own layout, but here is an overview as to the sections that you would typically find at an Asian grocery store:
Rice
Rice is a staple in most Asian cuisines so it no surprise that you will find a HUGE variety of rice in any Asian supermarket.
Short grain rice has a little bit of a sticky and starchy texture when cooked. It is popularly used in sushi, and I love using short grain rice for congee.
Medium grain rice is a bit more fluffy when cooked. It is moist and tender. Most types of Jasmine rice, probably one of the most popular types of rice for Asian cooking (and my personal favorite), is considered medium to long-grained. Jasmine rice has the perfect texture and aroma to accompany most Asian dishes.
Long grain rice is typically more chewy and separates a lot easier than medium and short-grain rice. A popular example of long-grain rice is Basmati rice.
Glutinous rice is also very popular in a lot of Asian cooking so when buying any kind of rice in an Asian market, always double-check the label to make sure that you are buying the right type as both types of rice look very similar to each other.
PS – If you would like to learn how to cook rice without a rice cooker, be sure to check out these step-by-step guides:
Noodles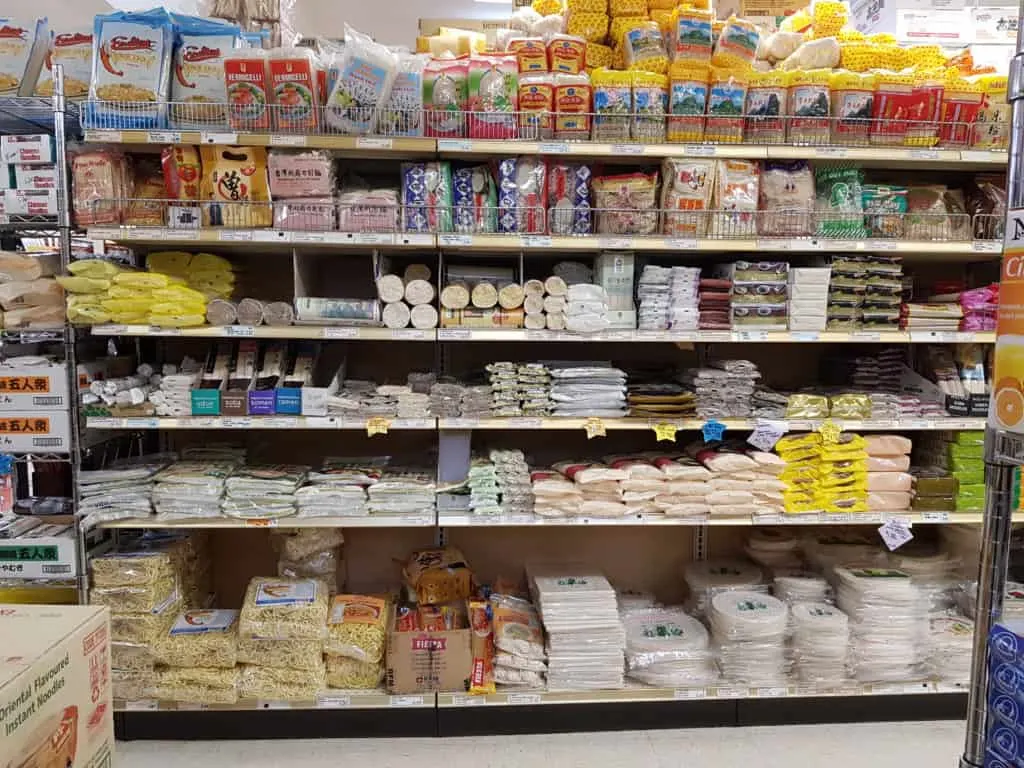 Noodles are also a mainstay of Asian cuisine. Most Asian grocery stores have whole aisles full of various types of dry noodles. You will find rice noodles, egg noodles, instant noodles, and several other types of noodles; and in various sizes and thicknesses.
The type of noodle you buy would depend on the dish you are preparing. In most cases, the type of noodle used is not really interchangeable, so it is best to stick with the type of noodle specified in the recipe. Here are some examples of common noodles and their applications:
What is great about purchasing dried noodles is that they last for a very long time in your pantry. They are very inexpensive so you can purchase them in bulk and store them until you need them.
In addition to dried noodles, most Asian supermarkets also carry fresh noodles in the refrigerated section. Fresh noodles have a much shorter shelf-life compared to dried noodles so you will want to use them as quickly as possible.
The noodle (or rice) aisle is typically where you would also find rice paper for making Vietnamese spring rolls.
Fruits and Vegetables
I absolutely love the variety of fruits and vegetables found at Asian supermarkets. There are so many options and usually super fresh.
Whenever I need bean sprouts, I always purchase them at an Asian grocery store as they are often much fresher and crisper.
In addition to the vegetables typically found in Asian dishes, you will also see some very familiar vegetables that you would find at your local grocery store; and most of the time, they are less expensive!
We all know we should be adding more fruits and vegetables to our diet, and shopping for produce at your local Asian grocery store is a fantastic way to introduce yourself to new and delicious varieties.
Don't be afraid to experiment; you might just find your new favorites!
Fruits to try:
Vegetables to try:
Seafood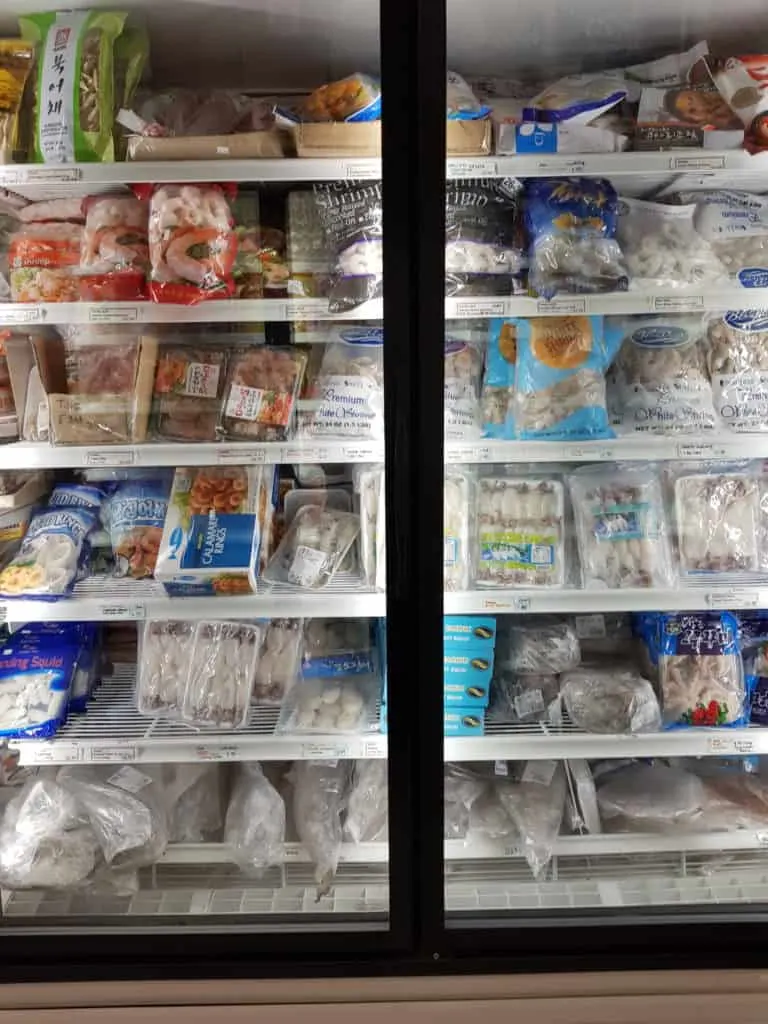 Larger Asian supermarkets may have fresh or even live seafood for sale, while smaller Asian markets normally keep their seafood in the frozen section.
Some cultures prefer to cook their fish whole (like in Chinese cuisine) so you will often see many varieties of whole fish for sale.
This frozen seafood section is where you will also find sushi-grade raw fish, fish roe, crab sticks, and other ingredients for making your own sushi.
Sauces and Spices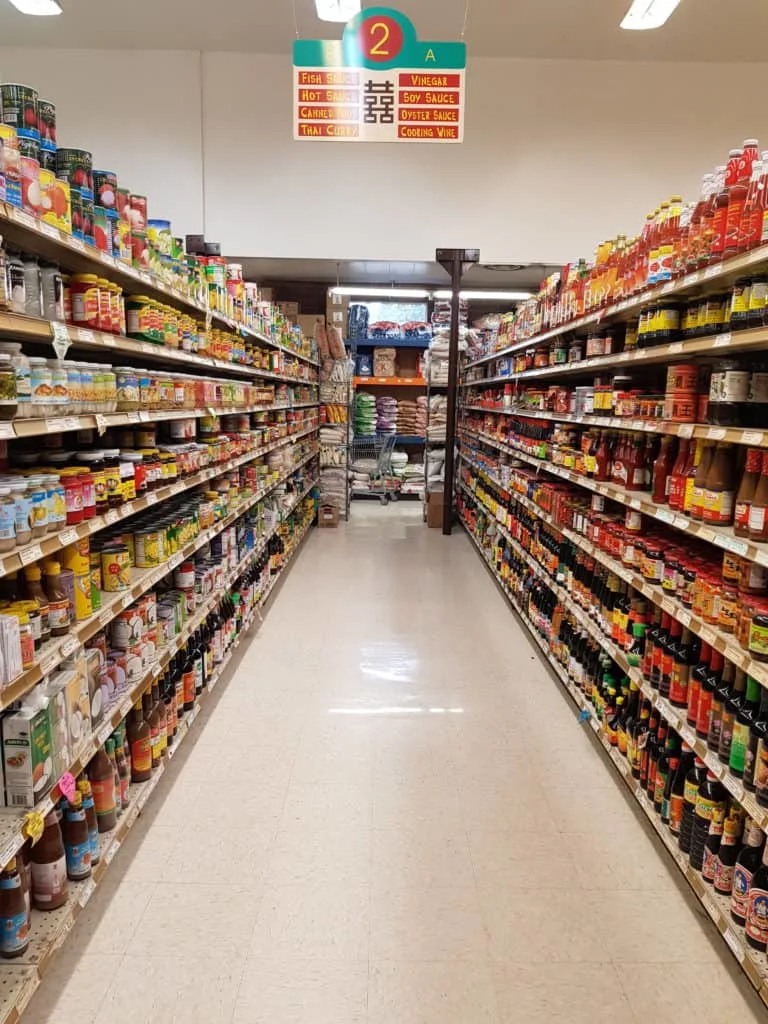 Walking down the sauce aisle at the Asian market might be quite intimidating as there are so many different types of Asian sauces and so many different brands.
The truth is that you only need a handful of most commonly used sauces in your pantry for Asian cooking.
Here are the sauces that I always have on hand in my kitchen (keep in mind that I cook a LOT of Asian foods so this list can be considered quite extensive):
Start with a basic good soy sauce, sesame oil, oyster sauce, rice vinegar, Shaoxing wine and maybe a fish sauce as a foundation, then build your collection from there as you cook more and more Asian recipes.
You may notice many different types and brands of soy sauce. Each Asian cuisine has their own type of soy sauce. For example, there's Japanese soy sauce, Chinese soy sauce, Thai soy sauce, etc. While they are all quite similar, there are subtle differences that will make a big difference in your dish.
There have been many times where changing the brand of soy sauce I used in a dish made all the difference!
Then there is light soy sauce (this is the regular soy sauce that most of us are familiar with), dark soy sauce and sweet soy sauce. These are not interchangeable.
It may take a few tries to find a good brand of soy sauce that you like. If you would like some recommendations, please feel free to email me and let me know what dish you are preparing, and I will do my best to help!
Most of the other sauces you see on the shelves are usually pre-mixed/prepared sauces like teriyaki sauce, which you can make at home using your other staple sauces in your pantry.
Next to the sauces, you will often find a variety of dried spices and pastes (such as Thai curry paste). You can even find packets of pre-mixed pastes, sauces, and spices for specific dishes.
In most cases, all you need to add are the meats and vegetables; just follow the instructions on the packet. This is a very convenient way of trying those dishes at home!
Refrigerated and Frozen Foods
Because Asian supermarkets tend to import a LOT of food items from other countries, their frozen and refrigerated sections tend to be very extensive in order to keep those foods fresh.
In the refrigerated section, you will find fresh meats, miso pastes, fresh chili pastes, kimchi, fresh noodles and so forth.
You will find some cuts of meat that aren't as popular in Western cuisine such as pork belly, short ribs, and also thinly sliced meats for Japanese shabu-shabu.
You will find some really interesting foods in the frozen section such as frozen dim sum! You may also find some frozen produce! This is truly invaluable as some imported vegetables and fruits do not keep for long in the fridge, but can last for months in the freezer.
Some examples of what I typically purchase from this section are frozen minced lemongrass (so convenient!!), frozen Thai bird chili, frozen banana leaf (to serve dishes like Penang Char Koay Teow), frozen kaffir lime leaves, and frozen curry leaves.
These items are very common in Asia but much harder to find in Western countries so it is handy to keep such items in your freezer.
Snacks and Beverages
Whenever my husband and children accompany me to the Asian market, they love exploring the snack and beverage sections. (Admittedly, the snack aisle is also one of my favorite sections… It is not very often I walk out of the store without one or two snack items in my shopping cart!)
There are lots of different snacks to try. Some are quite intimidating if you're not used to this type of cuisine (eg, whole crispy anchovies, anyone? what about some pork floss?), but a lot of them are quite delicious.
Shrimp crackers may sound a bit weird, but they are one of our favorites. The beverage section is filled with interesting and exotic flavors. One of our favorites is roasted coconut juice.
Kitchen Items and Household Goods
In the kitchen and household section, you will see a large variety of woks, wok spatulas, ladles, frying pans, etc. All the kitchen gear you will need to cook (and serve) Asian food at home!
If you are new to Asian cooking, I have prepared a list of Top 10 Asian Kitchen Essentials that you can check out. You should be able to find most or all of these items at your local Asian grocery store.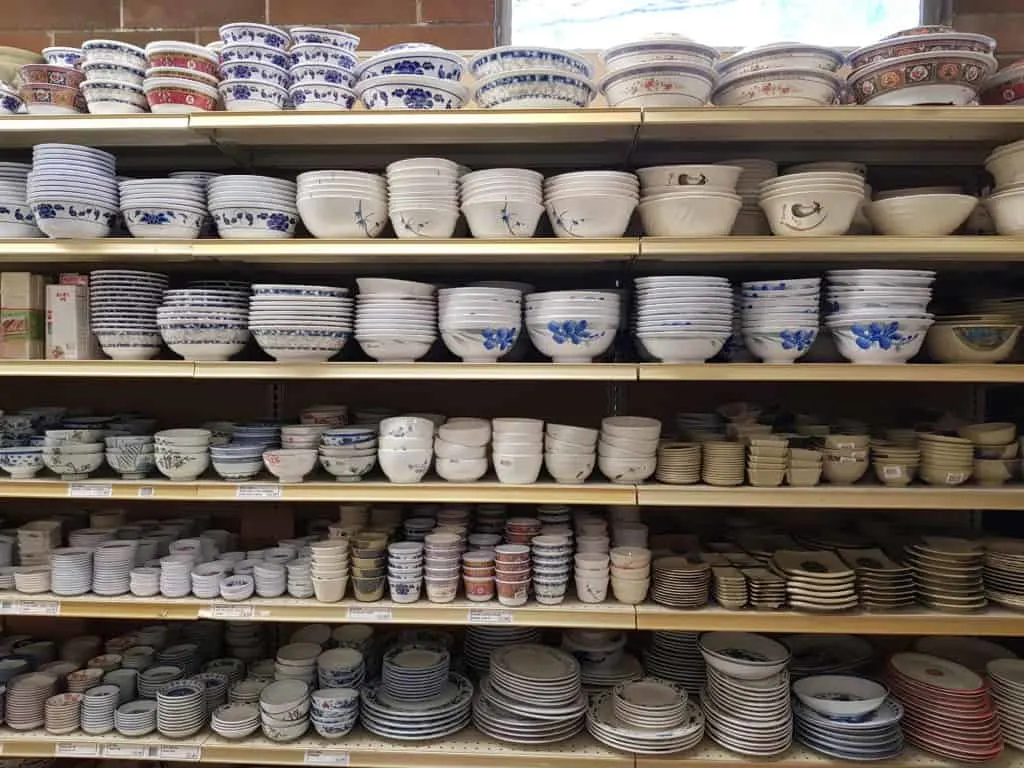 I hope that this article has given you a bit more confidence to visit your local Asian market, and perhaps also inspired you to pick up a few items to try!