No rice cooker? No problem! This easy step-by-step guide will walk you through how to cook rice without a rice cooker. No timer needed either! Perfect, fluffy rice every time.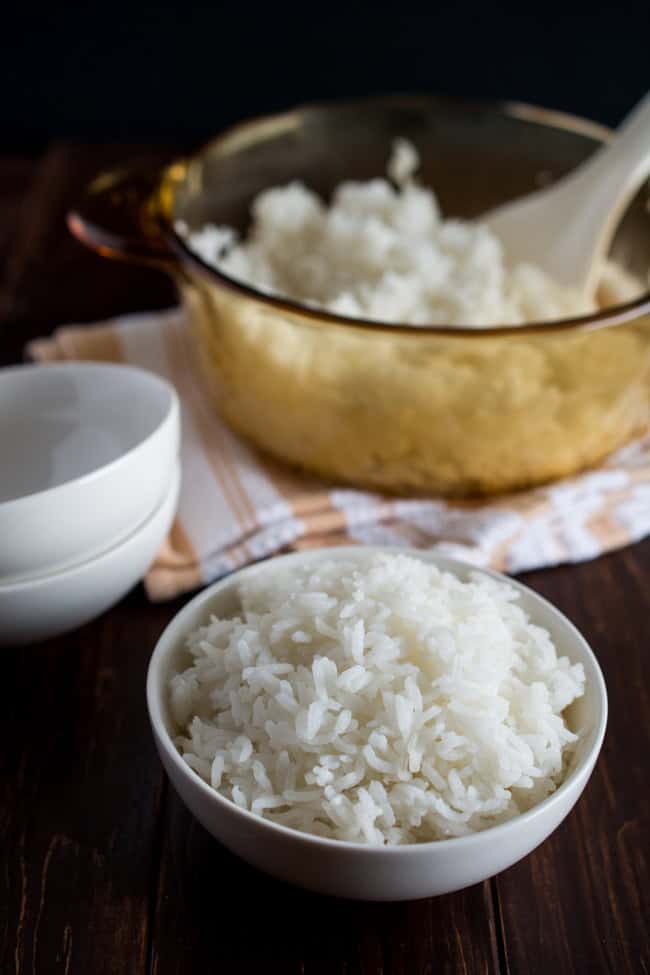 Having an electric rice cooker can be very convenient. However, cooking rice over your stovetop can be just as easy. Some find it even more convenient than using a rice cooker! It's one less kitchen appliance to manage.
The key to cooking rice using this easy method is to use a pot with a heavy base that retains its heat well. I use a Visions cookware pot or a Corningware Covered Casserole. I love using these because I can see the rice cooking through the glass. You can use any pot that has a heavy base (that has a lid).
Please keep in mind that this guide only applies to white rice. It will work with short, medium or long grain white rice. Brown rice uses more water and takes longer to cook. I am working on putting together a separate article on steaming brown rice on your stovetop. In the meantime, you can find a guide on how to steam brown rice on your stove top in my cookbook!
If you use a regular measuring cup, one cup of uncooked rice will yield about 3 cups of cooked rice. (Side note: If you happen to use the measuring cup that came with your rice cooker, it will yield slightly less as it is normally about 3/4 cup). This measurement does not have to be exact, but it helps to know approximately how many servings it will yield. If you're comfortable with it, you can just eyeball the amount of rice you'll need.
How to cook rice on your stovetop
1. Pour 2 cups of uncooked white rice into a pot with a heavy base.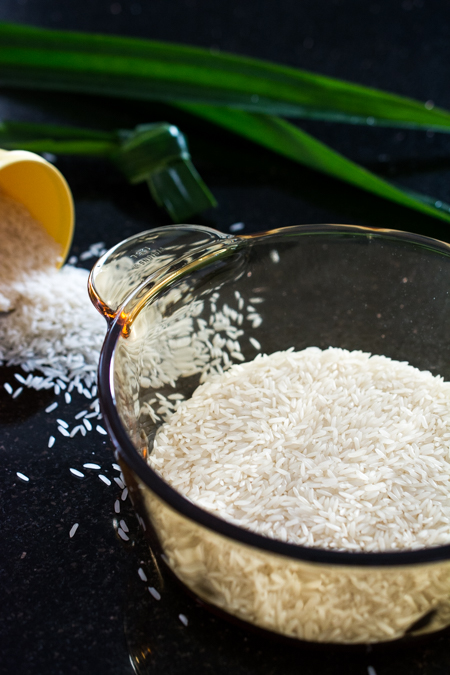 2. Fill the pot with just enough water to cover the rice, then run your fingers through the rice. Swirl the rice around in the pot to help loosen the starch.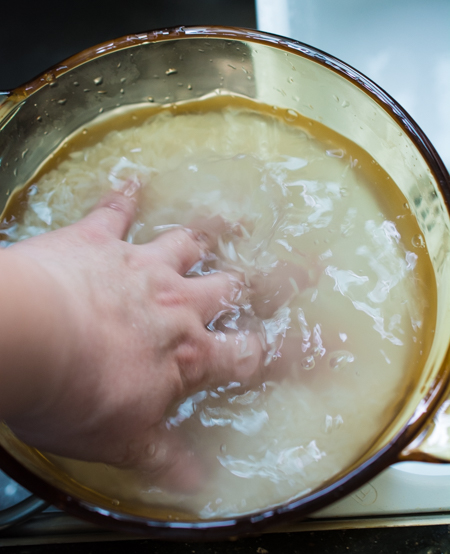 3. Drain as much of the water as possible. Pour the water out slowly to avoid pouring the rice out as well. Repeat 3 to 4 times or until the water is less murky.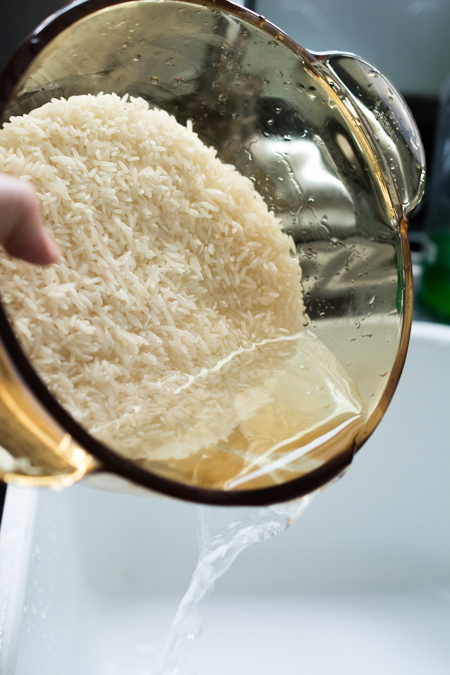 4. Fill the pot with 3 cups of fresh water.
Alternatively, here's a more traditional way to measure the water needed to cook your rice: Place your middle or index finger right over the top of your rice. Your fingertip should barely be touching the rice. The water level should be right around the first crease line on your finger where your first knuckle is. I happen to have really small hands so I make sure that it's about 2mm or so above the crease on my finger.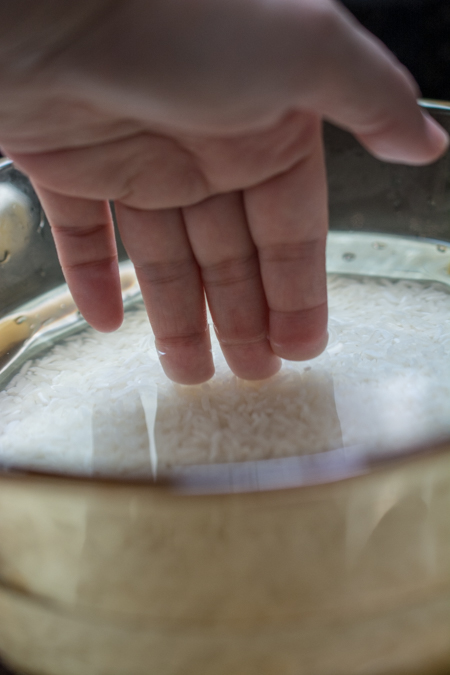 5. Place the pot on your stovetop over medium-high heat and allow it to boil uncovered.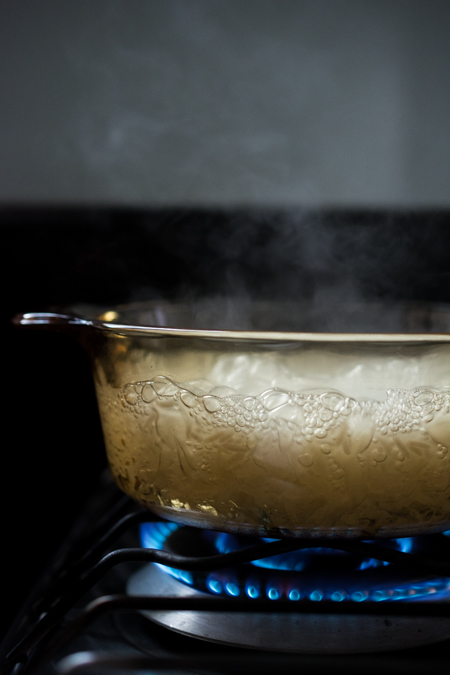 6. After a while, most of the water would have been absorbed by the rice or evaporated. When you can see that the water has absorbed just past the surface of the rice (as shown in the picture below) and little "craters" have formed on the rice surface, place the lid on the pot.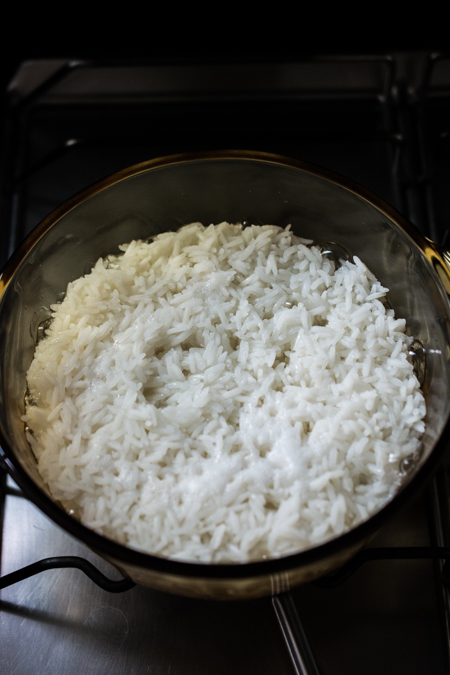 7. Allow it to boil with the lid on for about 10 – 20 seconds or so, then turn off the heat. Leave the lid on to allow the rice to cook. NO PEEKING!! The rice will be done in approximately 15 minutes.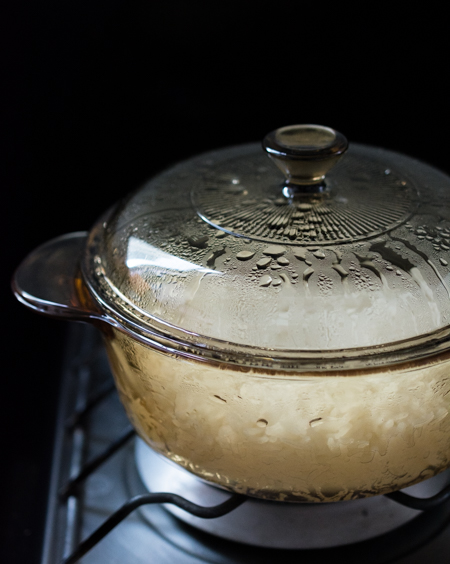 8. When the rice has cooked, use a pair of chopsticks or rice paddle to "fluff up" the rice. This step gives the rice a nice, "fluffy" texture.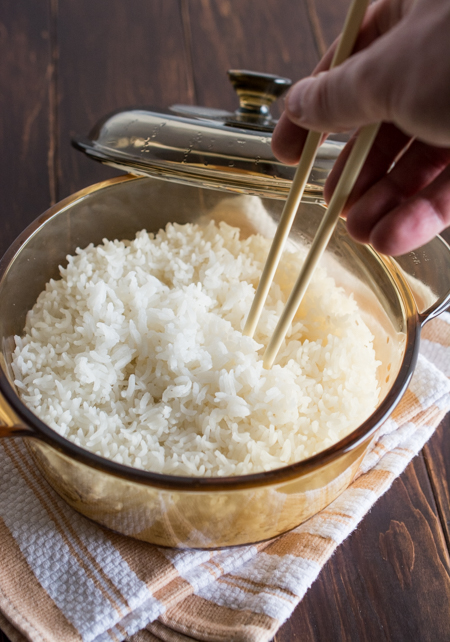 What I normally do is to boil the rice when I'm about to start cooking the rest of my dishes. As soon as I turn the heat off for the rice, I just leave it covered until I'm just about ready to serve, and I keep preparing the rest of the meal. I don't have to set a timer to remind myself to take the rice off the stove. I just leave it there until I'm ready.
That's all there is to it! Perfectly cooked rice every time!
Happy cooking!