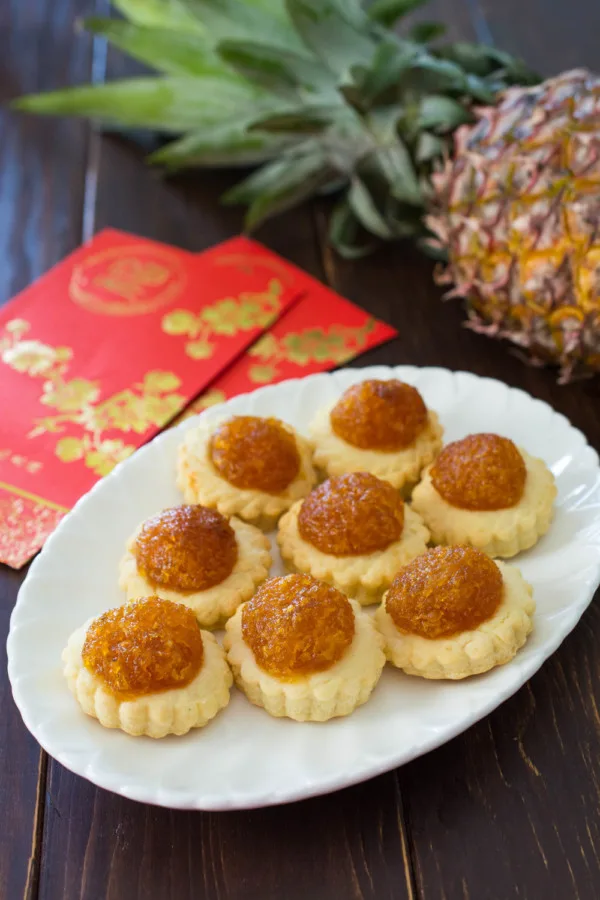 Chinese New Year is just around the corner and this year is extra special for me. This is the first time in 15 years that I will be celebrating Chinese New Year here in Malaysia with my extended family after living in the United States all these years. We just moved back to Penang several months ago. As a special treat, a few blogger friends and I have put together an online virtual Chinese New Year cookie party! (Click here or scroll to the bottom of this post to see the other cookie recipes!) I'm sharing the recipe to one of my favorites – Pineapple Jam Tarts!
I've loved Pineapple Jam Tarts ever since I was little. My grand-uncle used to bake these cookies for us and I would devour them. The pineapple jam on the top is so rich and sweet, and pairs so well with the flakey, buttery cookie.
Pineapple Jam Tarts have become extremely popular during the Chinese New Year season. The word "pineapple" translated into the Hokkien dialect is "Ong Lai". Ong means "prosperity" and Lai means "to come" or "to arrive". So, "Ong Lai" translates into "prosperity has arrived". People eat Pineapple Jam Tarts during the Chinese New Year season hoping that it will bring them good luck and prosperity.
The first step is to make the pineapple jam. This pineapple jam is quite thick. Thick enough to roll into little balls to place on top of the cookies. Not quite the same type of jam you would spread on your toast. I highly recommend using fresh, ripe pineapple as opposed to canned pineapple. If you have to use canned pineapple, use canned crushed pineapple.
Cut off the pineapple skin, then cut the pineapple into smaller chunks so that you can grate it. You will need four cups of shredded pineapple (approx. two small pineapples). Tip: Slice the pineapple horizontally so that you get a little bit of the core in each wedge. Hold on to that core so that you don't bust your knuckles and fingertips while grating the soft pineapple flesh. Discard the core when you're done grating.
Put the shredded pineapple in a large saucepan along with 2 1/2 cups of sugar, 1 cinnamon sticks
, 1 star anise
, 3 whole cloves
and 2 tablespoons of lemon juice.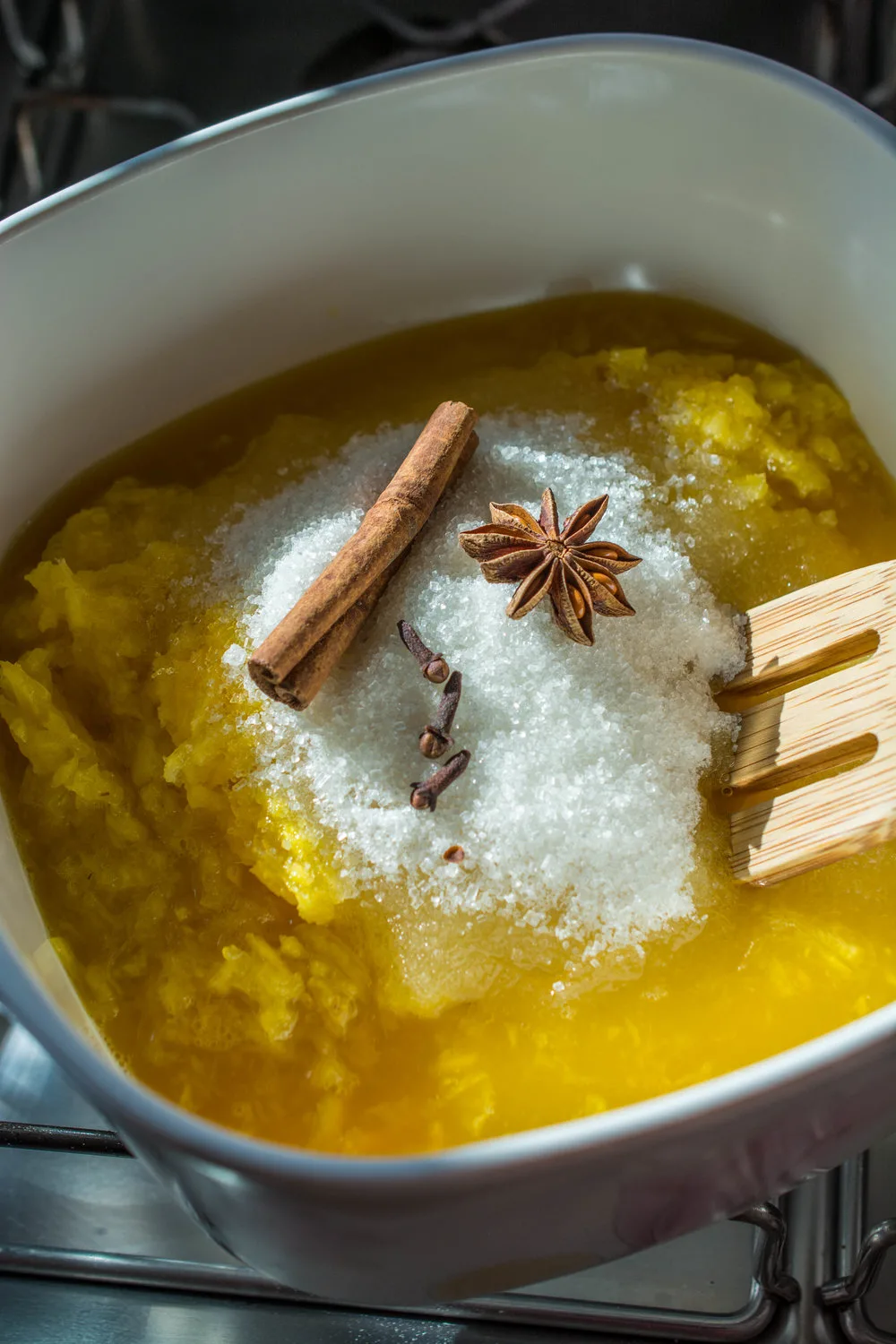 Simmer over medium-low heat for about 30 minutes. Keep stirring to prevent the jam from burning. It will turn into a nice golden colour. You'll know it's ready when it is very thick and the pineapple pulp becomes a bit translucent. Remove the cinnamon stick, star anise and cloves.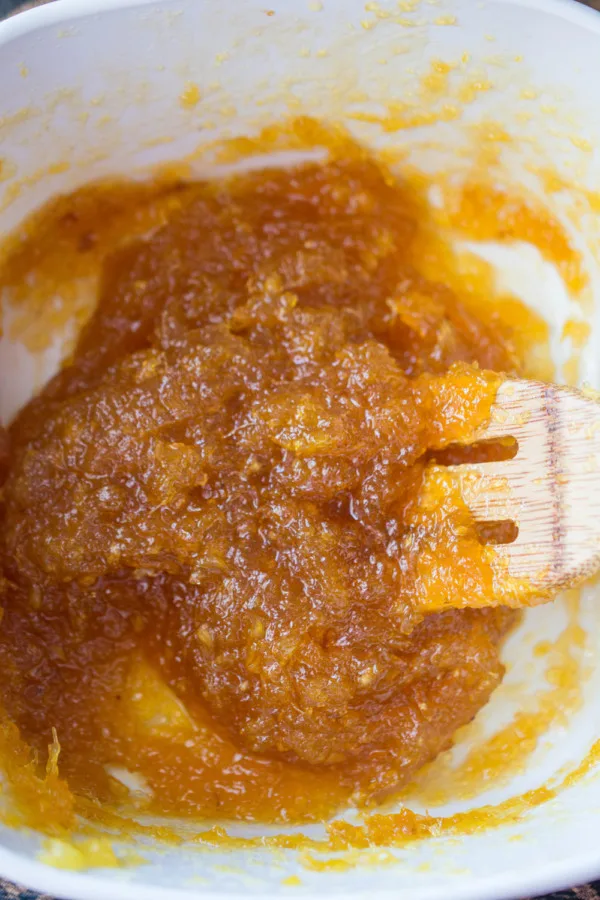 When the jam is completely cool, roll it into small balls using your palms. Slightly less than a teaspoon for each ball. Place them on a sheet of wax paper or parchment paper.
Now on to the pastry…..This would be a good time to preheat the oven to 350 degrees F.
Sift 4 cups of flour into a large mixing bowl, then add 1 teaspoon of salt. You will also need 250grams of cold butter. If you are in the US, this is approximately 2 1/4 sticks of butter. If you are in Malaysia, one stick of Golden Churn or SCS butter is 250g so you'll just need one.
Cut the butter into approximately half inch cubes and toss them in the flour. Use your fingers to "massage" the butter into the flour until the flour is crumbly.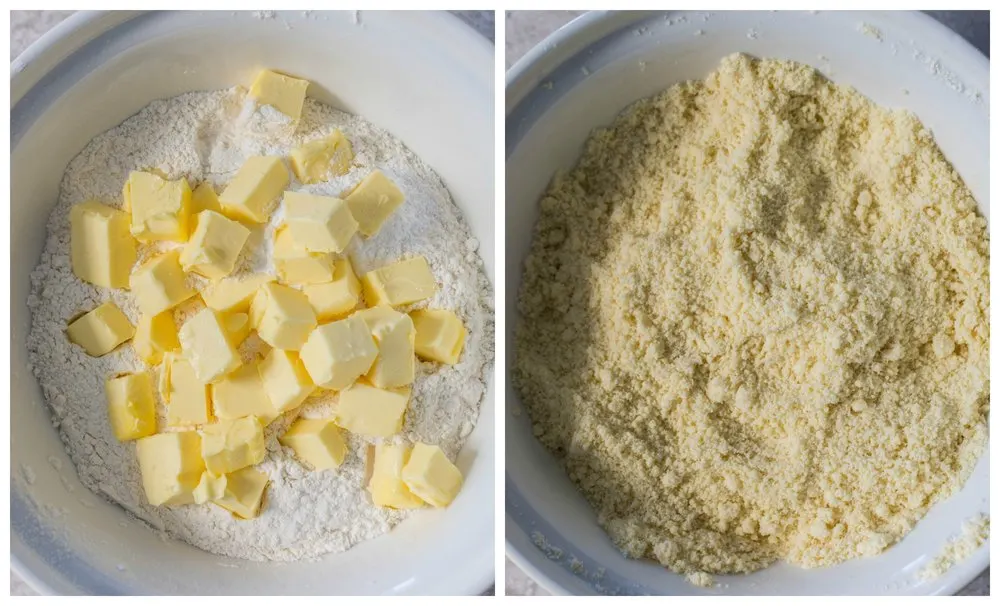 Add two large eggs and 4 tablespoons of cold water into the flour. Use your hands to combine these ingredients to form a ball of dough. Do not knead it too much.
Using a rolling pin, roll out the dough to about a 1/4 inch thick sheet on a floured surface. Use a cookie cutter (1.5 to 2 inch diameter) to cut out the dough and place them on parchment paper over a cookie sheet. Make a divot in the center of each cookie, then place one pineapple jam ball in the middle.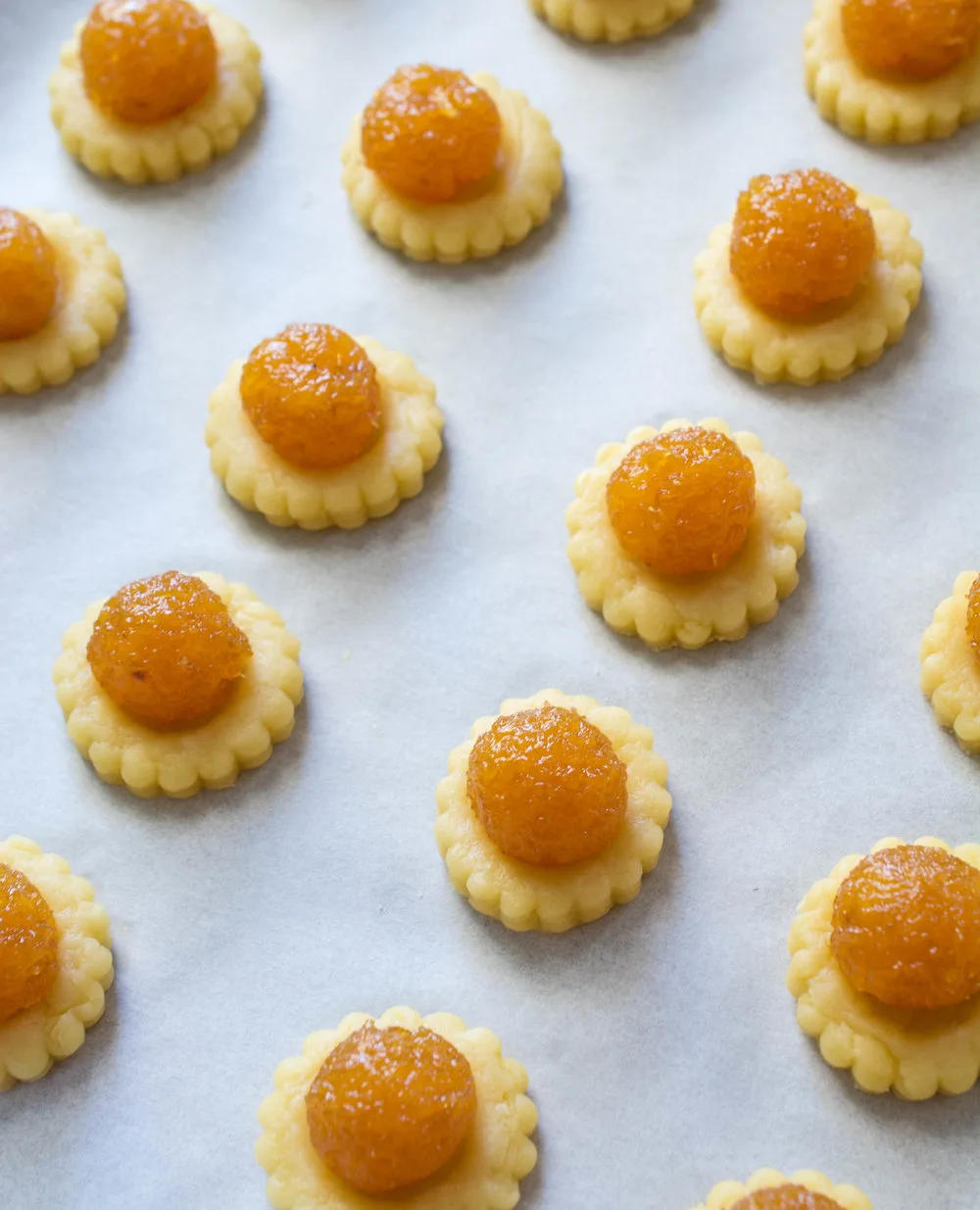 Bake at 350 degrees F for 20 minutes. Let it cool completely before enjoying.
(Scroll down for the printable recipe)
I hope you enjoy this recipe! Here are the links to all of the cookie recipes for this virtual party. We would greatly appreciate it if you could please share this post using the hashtag #ChineseNewYearCookieParty

Chinese New Year Cookie Party Recipes:
Vegan Cornflake Cereal Cookies by Vermillion Roots
Fried Red Bean Puffs by The Missing Lokness
Chinese Peanut Cookies by Daily Cooking Quest
Chocolate Almond Cookies by Curious Nut
Tapioca cookies (Kue Bangkit) by What To Cook Today
Red Bean & Strawberry Pinwheel Cookies by Lito Supply Co
Sesame Spiral Pie Cookies by Bams Kitchen
Mochi Stuffed Almond Cookies by Miss Hangrypants
Melt-in-the-Mouth Chinese Gluten-Free Peanut Cookies by Foodie Baker
Honey Almond Cookies by Hapa Nom Nom
Quinoa Sesame Brittle by Omnivore's Cookbook
Browned Butter Chinese Walnut Cookies by Yummy Workshop
Macau Almond Cookies by Thirsty for Tea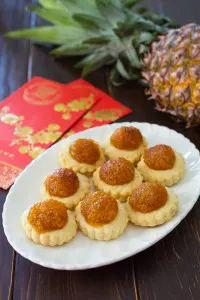 Pineapple Jam Tarts
Ingredients
For the pineapple jam:
4

cups

shredded pineapple

2 1/2

cups

sugar

3

cloves

2

Tablespoons

lemon juice
For the cookie:
4

cups

all purpose flour

1

teaspoon

salt

2 1/4

sticks

butter

chilled

2

eggs

4

Tablespoons

cold water
Instructions
Combine shredded pineapple, sugar, cinnamon stick, star anise, cloves and lemon juice in a large saucepan and simmer over medium-low heat for 30 minutes, stirring constantly.

Let the pineapple jam cool completely before handling. Discard cinnamon stick, star anise and cloves.

Sift the flour into a large mixing bowl. Add salt.

Cut the butter into cubes and toss into flour. Use your hands to combine the butter and flour until the flour is crumbly.

Add the eggs and cold water.

Use your hands to knead the pastry dough till it forms into a ball. Do not over-knead.

Preheat oven to 350 degrees F.

Roll the pineapple jam into individual small balls. Set aside.

Use a rolling pin to roll out the pastry dough into a quarter inch thick sheet. Use a cookie cutter to cut out dough. Make a divot in the center of the cookie, then place one ball of pineapple jam in the middle.

Bake for 20-25 minutes.

Enjoy!
Nutrition
Serving:
1
g
Calories:
287
kcal
Carbohydrates:
48
g
Protein:
4
g
Fat:
9
g
Saturated Fat:
6
g
Polyunsaturated Fat:
3
g
Cholesterol:
38
mg
Sodium:
213
mg
Fiber:
2
g
Sugar:
25
g