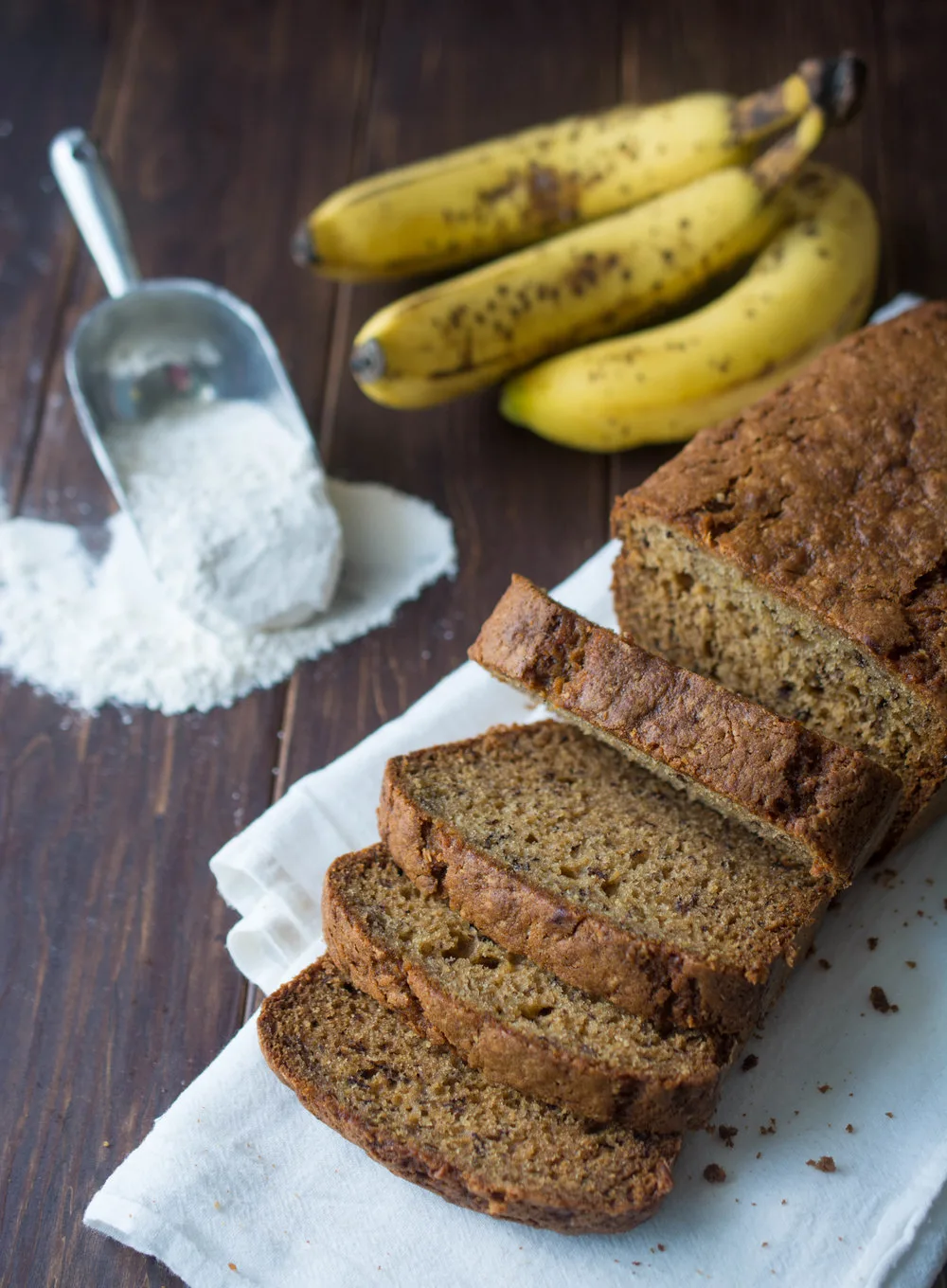 I love bananas but I don't love how quickly they turn brown. I often buy too many bananas and they end up turning brown but fortunately, I can freeze the over-ripe bananas and make this super easy banana bread! This is my go-to recipe that yields perfect banana bread every time. I make this banana bread for my family on a regular basis.
This recipe makes just enough to fill one 9-by-5-Inch Loaf Pan
. I've tried using silicone loaf pans and even stoneware, but I find that the metal loaf pans work best for this bread. Non-stick or plain works just fine.
Start by pre-heating the oven to 350 degrees F.
Next, prepare your loaf pan. Even if it's non-stick, I highly recommend using either Pam Spray For Baking
or preparing your pan using butter and flour: Spread a very thin layer of butter all over the inside of your loaf pan. This recipe calls for one stick of butter (to be melted). Save the wrapper and use it to spread the butter on to the loaf pan. You shouldn't have to use extra butter for this task as you should have enough butter on the wrapper itself. Next, sprinkle about a tablespoon of flour in the loaf pan. Shake the flour all around so that it covers the bottom of the pan as well as the sides. Discard the excess flour.
You'll need two big bowls – one for the wet ingredients and one for the dry ingredients. The bowl for the wet ingredients should be large enough to hold all of the batter as you'll be transferring all of the dry ingredients into that bowl.
Dry Ingredients:
2 cups all purpose flour
2 teaspoons baking powder
1 teaspoon baking soda
1 pinch of salt
Wet Ingredients:
2 eggs
1 cup sugar
1/2 cup melted butter (1 stick)
1 teaspoon vanilla extract
3 tablespoons milk
1 tablespoon lemon juice or vinegar
1 cup banana (smashed)
Mix the ingredients in both bowls separately using a wooden spoon or spatula. Slowly pour the dry ingredients into the wet mixture. Combine but don't over-stir. Pour the batter into the prepared loaf pan and bake for 1 hour.
Perfect every time!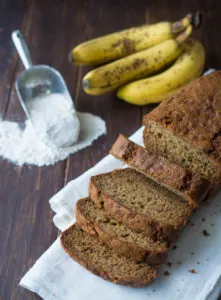 Super Easy Banana Bread
Ingredients
Wet ingredients
2

eggs

1

cup

sugar

1/2

cup

melted butter

1 stick

1

teaspoon

vanilla extract

3

Tablespoons

milk

1

Tablespoon

lemon juice or white vinegar

1

cup

banana

smashed
Instructions
Preheat oven to 350 degrees F.

Prepare loaf pan (use Pam baking spray, or smear butter then dust with flour)

Mix dry ingredients in a large bowl.

Mix wet ingredients in a separate large bowl.

Slowly fold the dry ingredients into the wet mixture. Combine but don't over-stir.

Bake for 1 hour.
Nutrition
Serving:
1
g
Calories:
476
kcal
Carbohydrates:
73
g
Protein:
7
g
Fat:
18
g
Saturated Fat:
10
g
Polyunsaturated Fat:
6
g
Trans Fat:
1
g
Cholesterol:
103
mg
Sodium:
546
mg
Fiber:
2
g
Sugar:
37
g