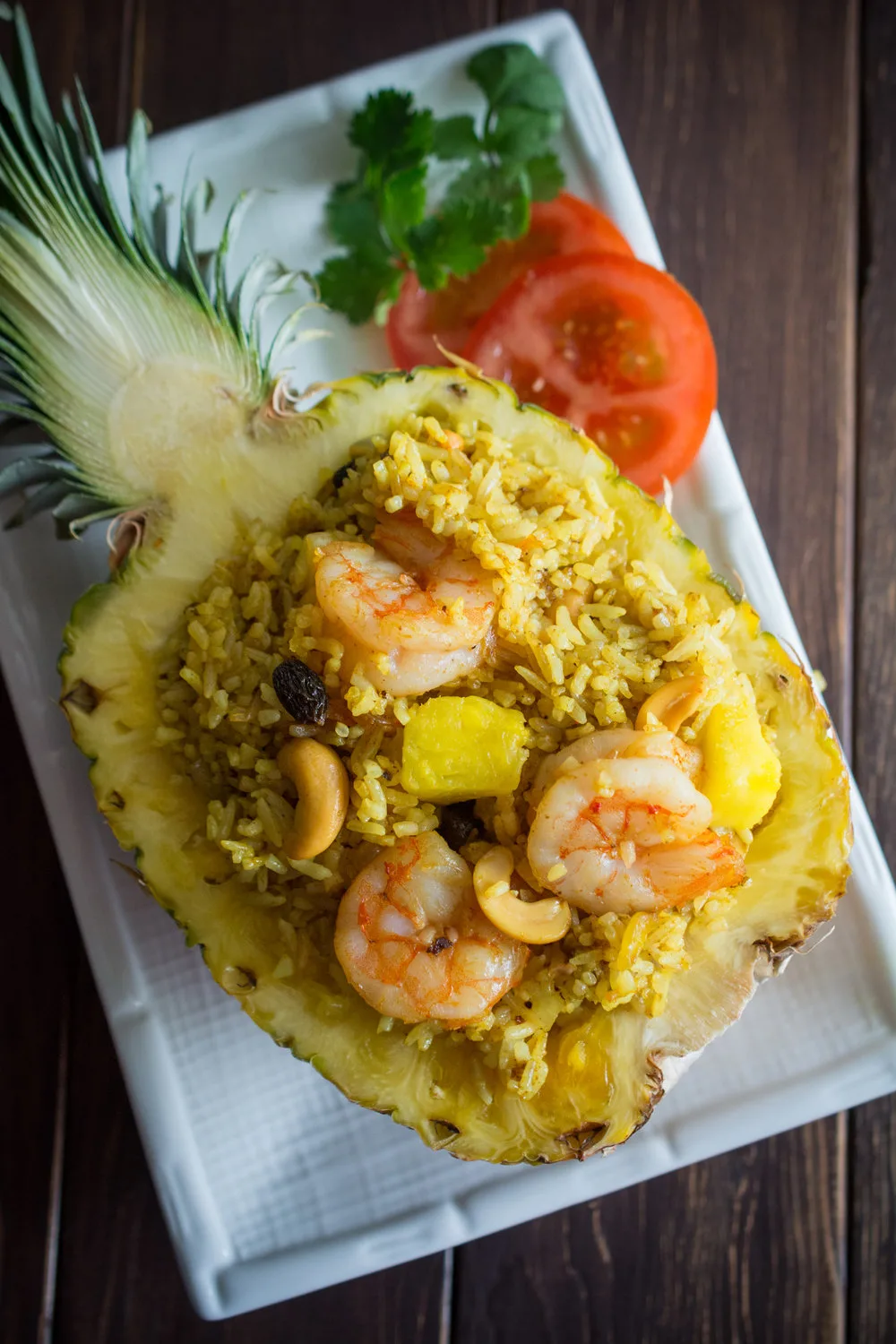 Fried rice is actually one of the first things I learned to cook when I was little. I remember standing on a little stepstool so I could reach over the huge cast-iron wok while my grandmother watched me put ketchup and sugar into my fried rice (eww! but as a kid, I thought it tasted fantastic!) My Mum's cousin also shared some words of wisdom when it comes to making fried rice – I remember her teaching me that you have to get the wok really really hot, and you know you've done a good job when you see little bits of rice dancing at the bottom of the wok when you're done 🙂
Pineapple Fried Rice is one of my husband's favorite dishes to order when we go out for Thai food, so I knew I had to learn how to make it at home.
Whenever making any kind of fried rice, it's always best to use cooked rice that has been refrigerated overnight. If you use freshly-cooked rice, you'll get a lot of clumps of rice sticking to each other and you won't be able to get good seasoning on each grain. It will also be too soft and mushy.
After taking the rice out of the fridge, use your fingers to break the rice up the best you can. It helps if your hands are wet so that you don't get too much rice sticking on your fingers when you're done. Then, pop it in the microwave for about 30 seconds to warm it up slightly right before frying. This will prevent the wok from cooling down too much from the cold rice.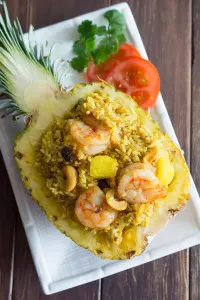 Pineapple Fried Rice
Ingredients
1/2

lb

raw shrimp

peeled, deveined

3

Tbsp

butter

2

tsp

curry powder

1/2

tsp

turmeric

3

cloves

garlic

finely chopped

1/2

a medium-sized onion

chopped

5

cups

cooked white rice

1

Tbsp

fish sauce

1

Tbsp

sugar

2

Tbsp

soy sauce
Raisins

optional

Whole cashews

optional

Cilantro for garnish

Tomato wedges or slices for garnish
Instructions
Heat up wok to medium-high heat. Add 1 Tbsp of butter to wok, then add the shrimp. Stir-fry till shrimp is cooked, then remove from wok.

Melt 2 Tbsp of butter in the wok, then add curry powder, turmeric, onion and garlic. Fry till fragrant (about 30 seconds)

Add the rice to the wok, constantly stirring to mix well. Add fish sauce, sugar and soy sauce.

Add the pineapple, raisins and cashews.

Garnish with cilantro and tomato.

Enjoy!
Nutrition
Calories:
415
kcal
Carbohydrates:
60
g
Protein:
18
g
Saturated Fat:
5
g
Cholesterol:
165
mg
Sodium:
1375
mg
Fiber:
1
g
Sugar:
3
g