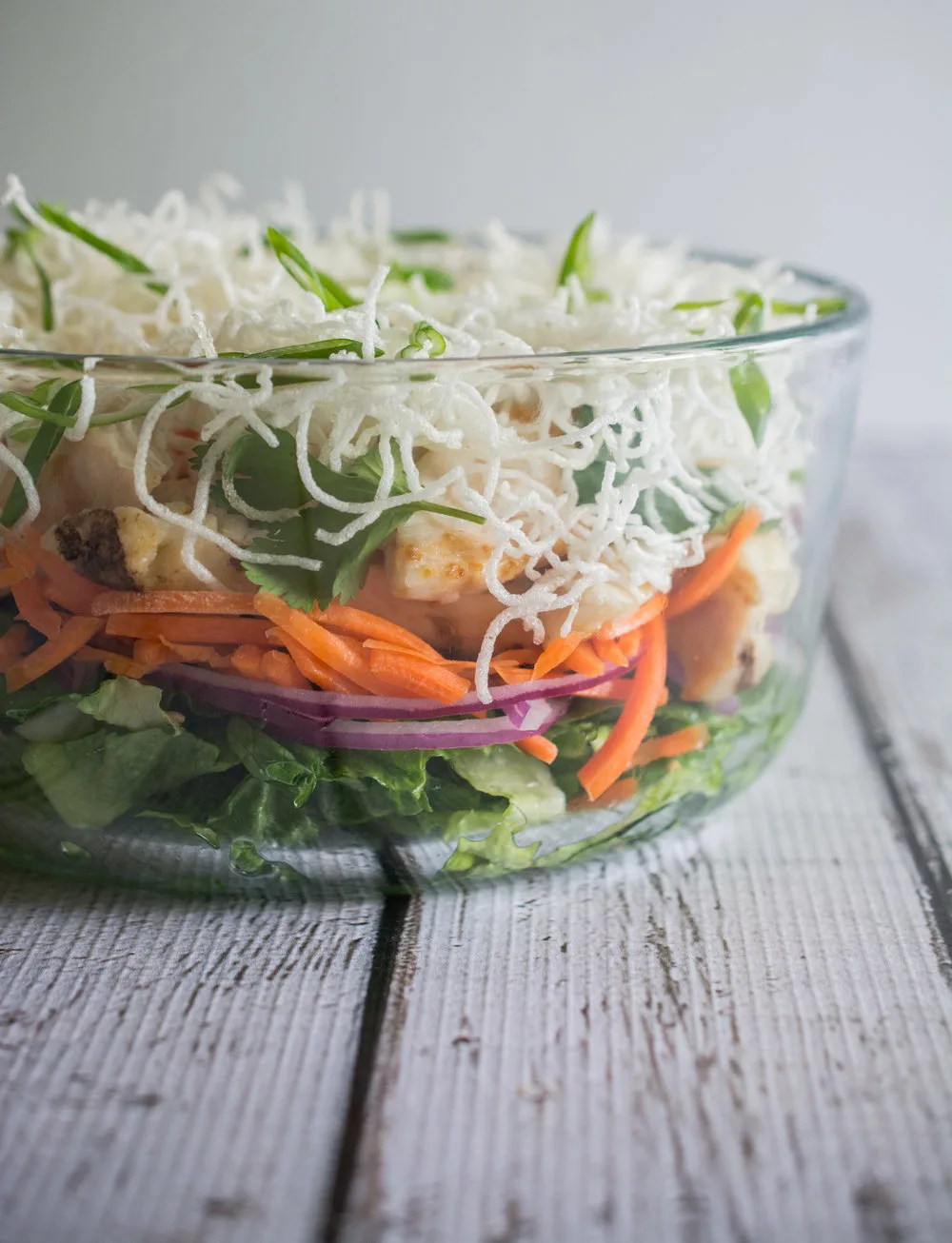 The weather here has been gorgeous. Spring is turning into Summer and I'm in the mood for a good salad. I have to admit – up until recently, I've never really been much of a fan of salads. In Asian cuisine, most vegetable dishes are cooked, so it took me a while to get used to eating raw veggies.
This Asian Chicken Salad with Apple Cider Vinaigrette is my current go-to salad. I love the Apple Cider Vinaigrette. Not only is it delicious and fresh; it's also super healthy! It takes just seconds to put together and I usually have all of the ingredients in my kitchen at all times – apple cider vinegar, sugar, sesame oil, and lemon juice.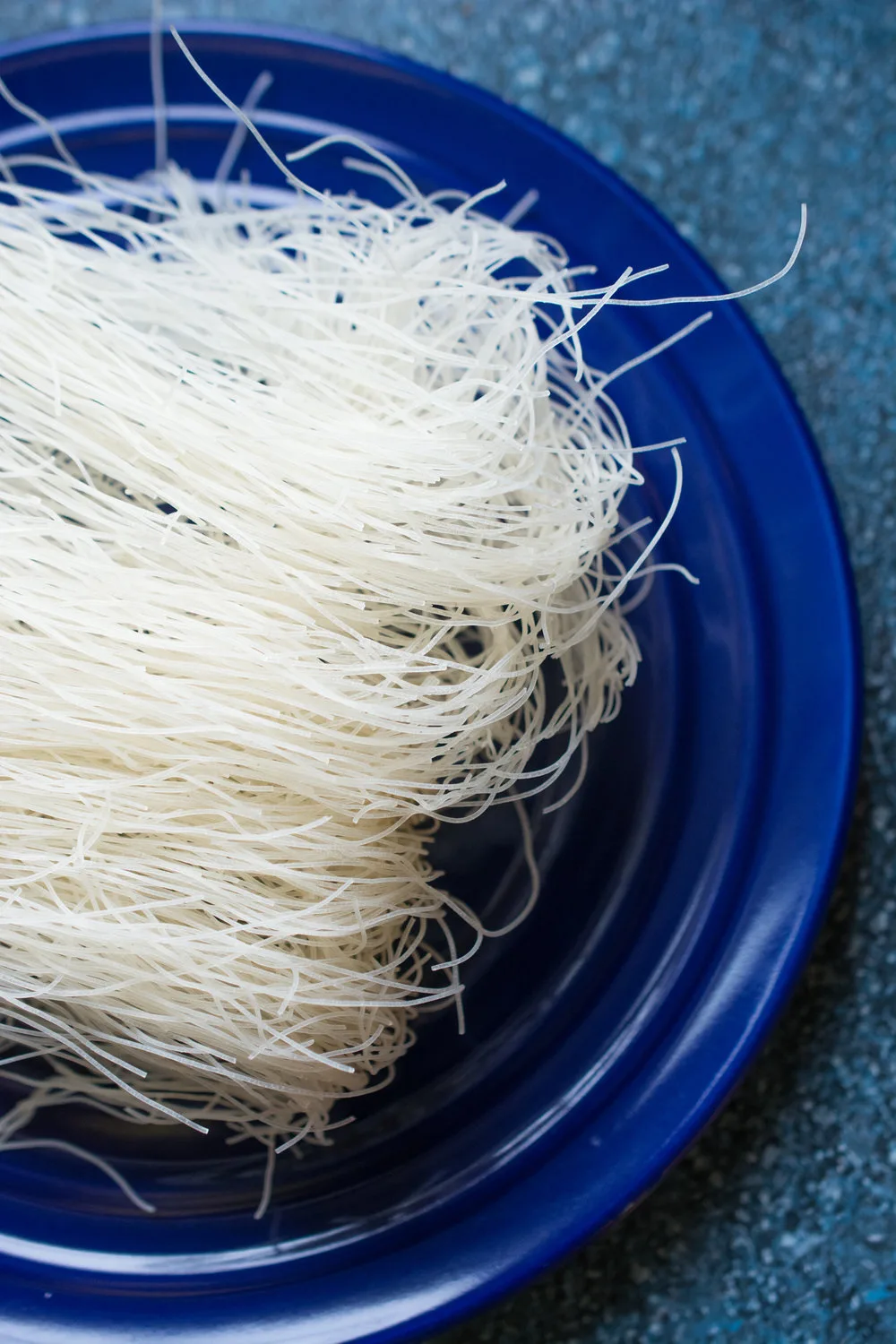 Yup, I admit…the crispy noodles on the top is my favorite part of the salad 🙂 It is deep-fried rice vermicelli noodles
. You'll want to wait till the very last minute right before serving to put these noodles on the top of the salad as it gets soggy very quickly.
To make these crispy noodles, fill your wok or large pot with cooking oil (no non-stick surface). You'll need enough oil to deep-fry the noodles…approx. 2 inches deep. The oil needs to be super hot. Test the oil with a wooden chopstick or the tip of a wooden spoon – it should be bubbling rapidly (see picture below).
This process is super quick so make sure you have everything prepared:
* Vermicelli noodles. You're going to deep-fry the noodles dry. Do NOT pre-soak!
* Wooden/bamboo chopstick or wooden spoon for testing the oil.
* Skimmer for scooping out the noodles when ready.
* I also use a Spatula to help me get the noodles on to the skimmer, then on to the baking sheet. Skimmer in my left hand, spatula in my right hand.
* Baking sheet. Once the noodles are ready, I scoop them out right on to a baking sheet for them to cool.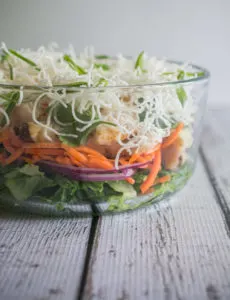 Asian Chicken Salad with Apple Cider Vinaigrette
A light and fresh salad with a delicious apple cider vinaigrette, topped with grilled chicken, and crispy vermicelli noodles.
Ingredients
1/4

cup

Apple cider vinegar

2

Tbsp

sugar

2

tsp

sesame oil

1/2

tsp

lemon juice

Cooking oil

1

cup

rice vermicelli noodles

dry, uncooked

2

romaine lettuce hearts

chopped into small bite-sized pieces

1/2

tsp

sesame seeds

1 1/2

cups

grilled chicken

sliced

1

carrot

julienned

1/2

red onion

sliced thinly

1/4

cup

cilantro

roughly chopped

3

Tbsp

chopped scallions
Instructions
Mix apple cider vinegar, sugar, sesame oil and lemon juice. Set vinaigrette aside.

Prepare the crispy noodles: Heat up cooking oil in wok or large pot (fill to about 2 inches of cooking oil).

Make sure the oil is hot enough (test with wooden chopstick or wooden spoon).

Deep fry dry vermicelli noodles. Just takes a few seconds for it to puff up. Retrieve with strainer. Set aside.

Toss romaine lettuce in vinaigrette. Add sesame seeds.

Assemble the salad. Add grilled chicken, carrot, red onion and cilantro.

Top with crispy noodles and scallions (add these at the very last minute; right before serving).

Enjoy!
Nutrition
Serving:
6
g
Calories:
1167
kcal
Carbohydrates:
94
g
Protein:
116
g
Fat:
38
g
Saturated Fat:
6
g
Polyunsaturated Fat:
29
g
Cholesterol:
361
mg
Sodium:
806
mg
Fiber:
15
g
Sugar:
36
g