Does your shrimp curl up almost immediately after hitting the hot oil? How do restaurants manage to keep the shrimp so straight? Here's a step-by-step guide on How to Make Shrimp Tempura.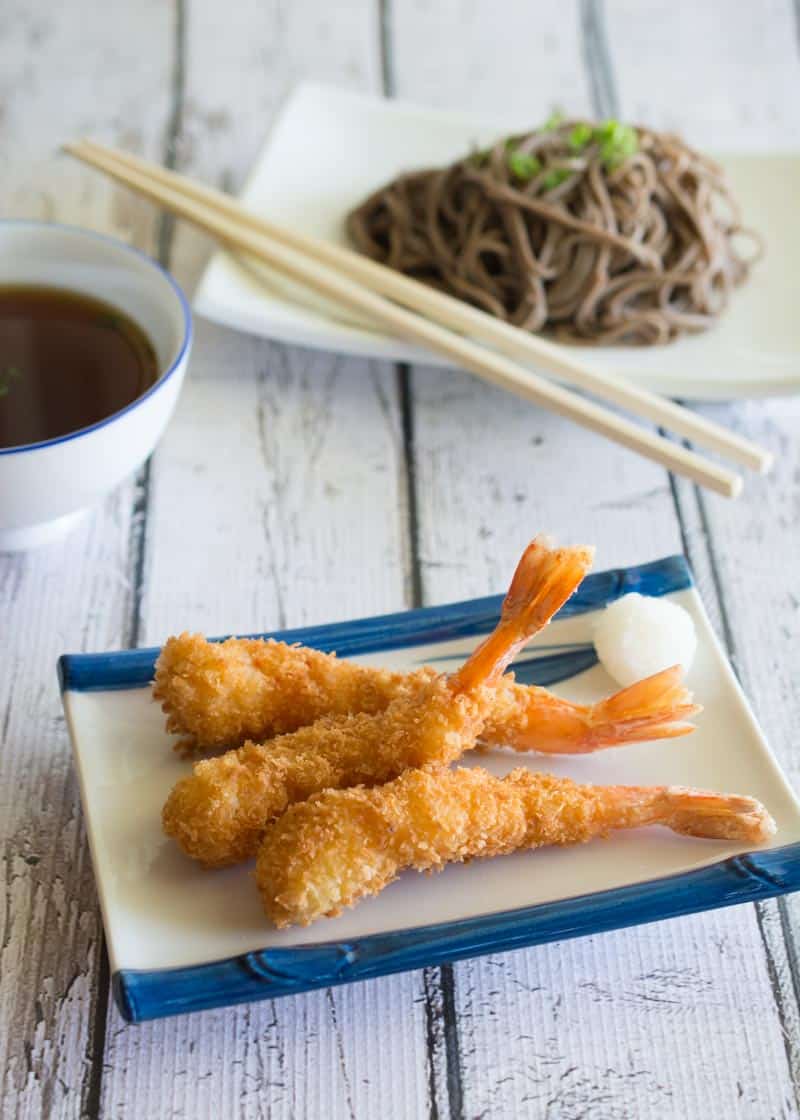 Shrimp Tempura is one of my all-time favorite Japanese appetizers. I love the sweet shrimp meat wrapped in all that crunchy batter. Shrimp Tempura is often served as an appetizer but can also be paired with dishes such as Zaru Soba.
The first few times I had attempted to make Shrimp Tempura at home ended up in disappointment. The batter always seemed too soggy and I know this seems trivial, but I was also disappointed that my shrimp kept curling up! I wanted them to be straight, just like in Japanese restaurants.
I finally learned that I needed to cut and prepare the shrimp a certain way in order to keep them straight during the cooking process.
Also, I found that by using Panko breadcrumbs
 instead of the traditional wet batter, the Shrimp Tempura was less soggy and more flavorful. I've stuck with this recipe ever since.
(Please note that this specific recipe is only for shrimp and not for vegetables. For veggies, you'll need to use the traditional wet batter)
How to Prepare Shrimp for Shrimp Tempura
First, we need to prepare the shrimp. Remove the shell but keep the tail on. Not only does it look better that way; it also makes it easy to handle when breading and frying it. Shrimp will naturally curl up as they cook so how do you keep it straight?
Put the shrimp on a cutting board, belly side up.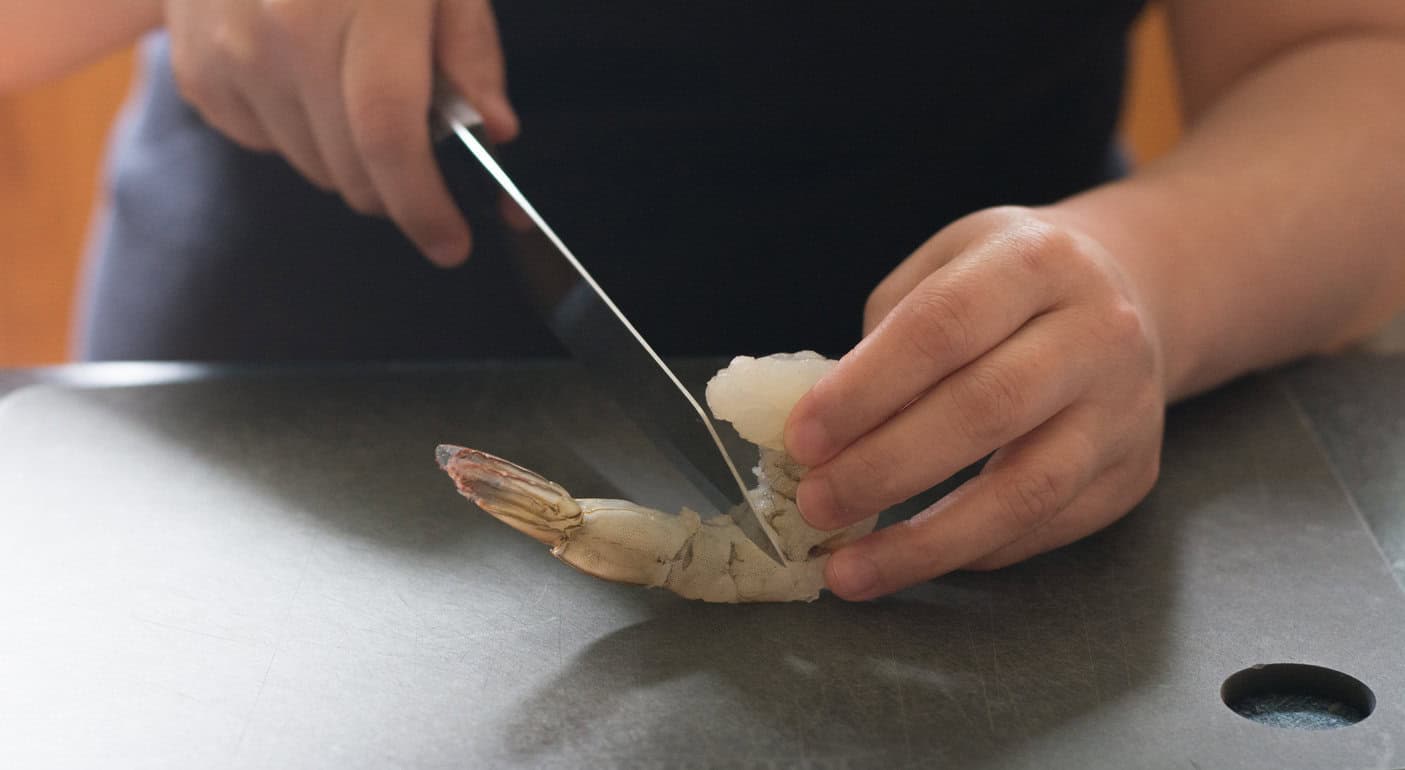 Make 4 – 5 vertical incisions all along the belly. Don't slice all the way! Just about half-way will do.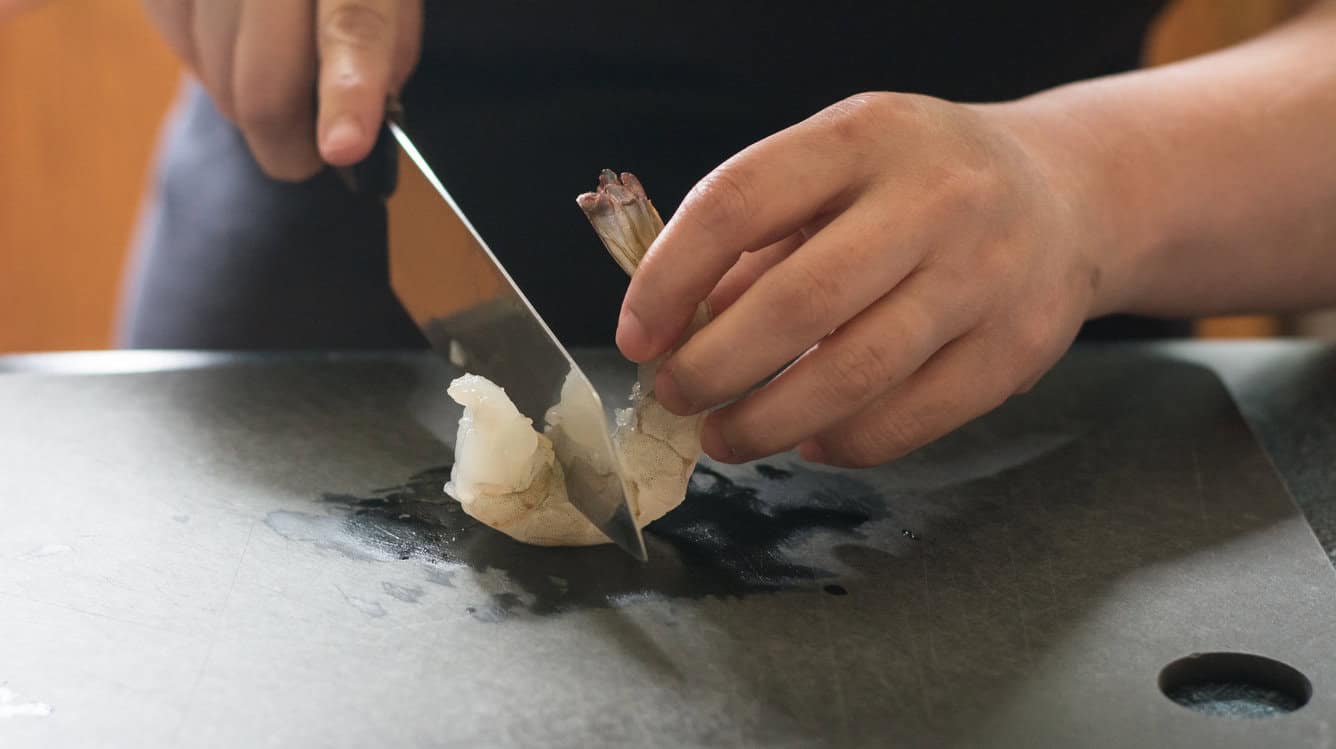 After you've made the incisions, flip the shrimp over so it's belly side down. Use your fingertips to squeeze the shrimp on the sides while pressing down.
Start from the tail and work your way up to the top. Be careful not to squeeze too hard (or it will split in two), but it should be firm enough where you'll hear a slight "snap".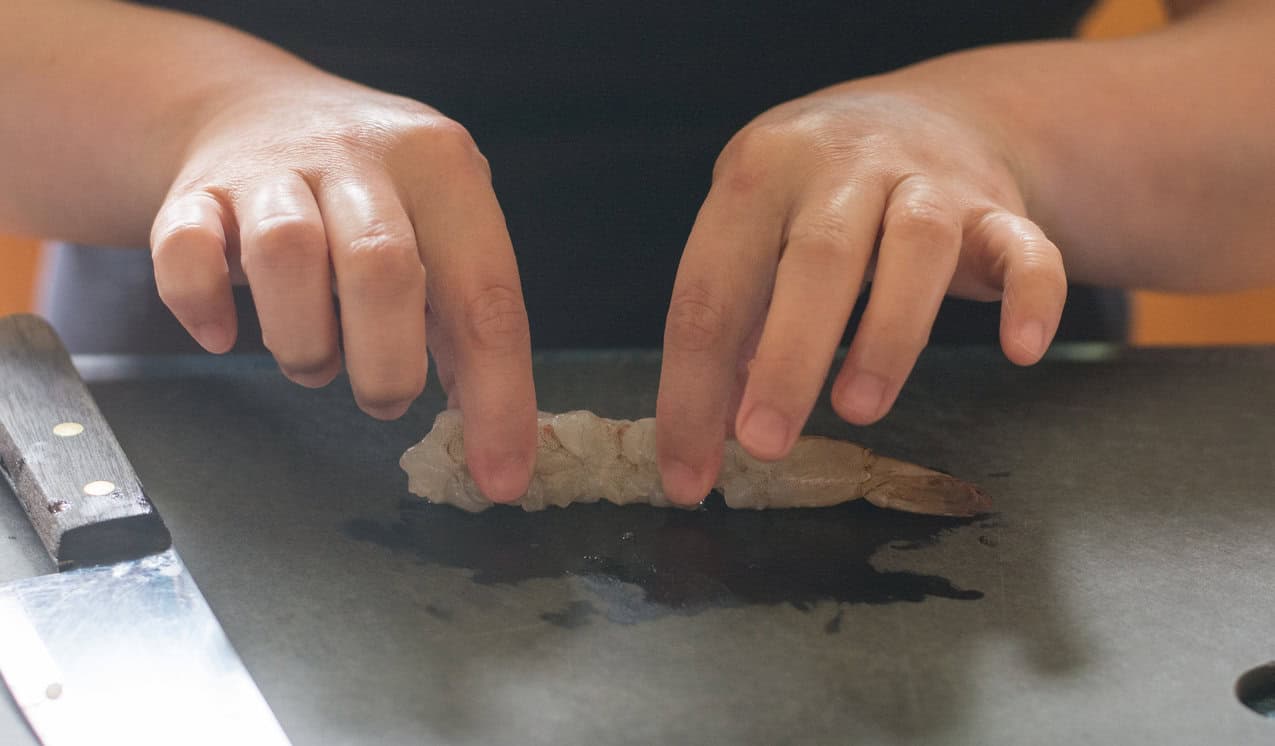 It's not going to look perfect. You'll see the huge incisions at the bottom but it's okay – the batter will cover it all up!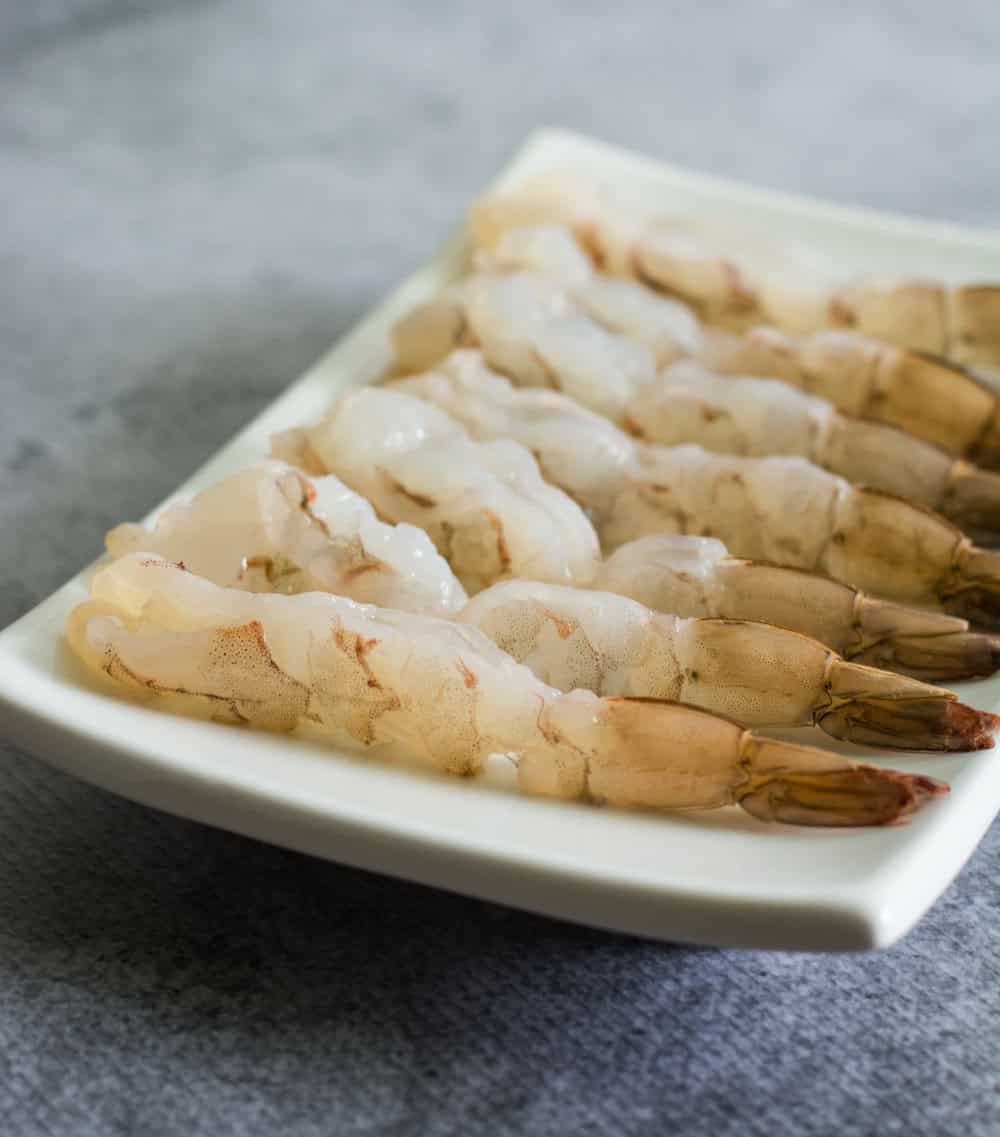 Make sure they're as dry as possible. I always pat them with a paper towel; especially the tails. Water gets trapped in there, which causes the hot oil to spatter so get them as dry as you can.
Heat up the cooking oil to medium-high heat. Make sure it is hot enough before you start deep-frying the Shrimp Tempura. The oil should smoke just a little – that's how you know it's ready.
Dredge the shrimp in flour, dip in egg batter, then cover in Panko bread crumbs
. Flour…..egg….breadcrumbs. That's it!
Now you can enjoy Shrimp Tempura anytime!
(Recipe below)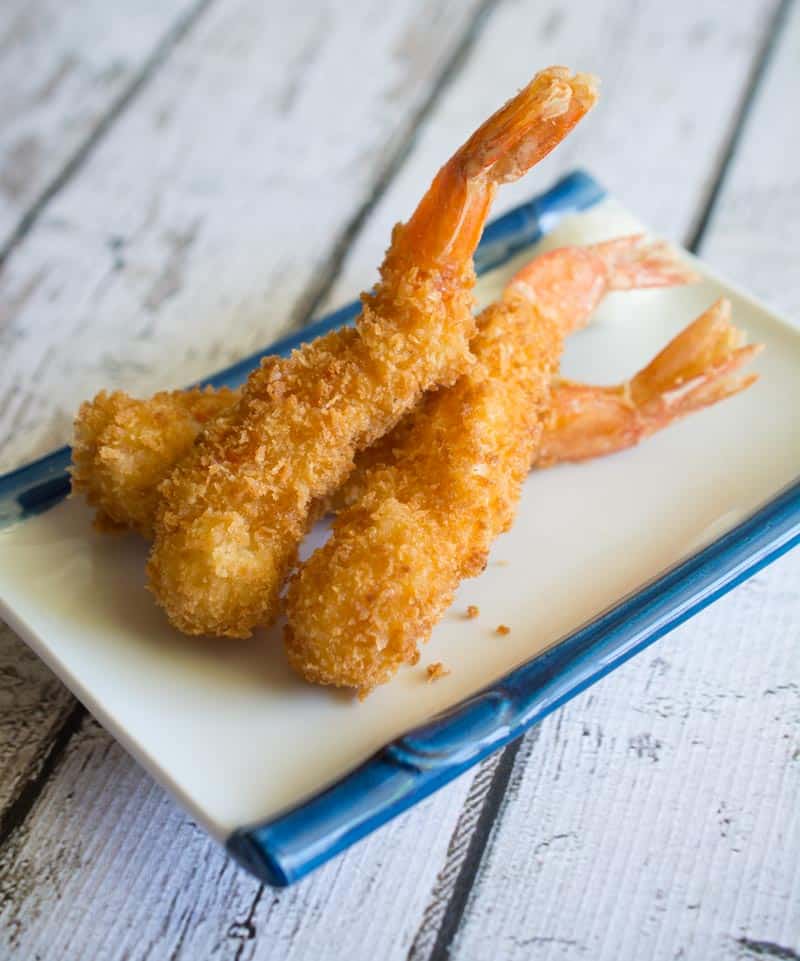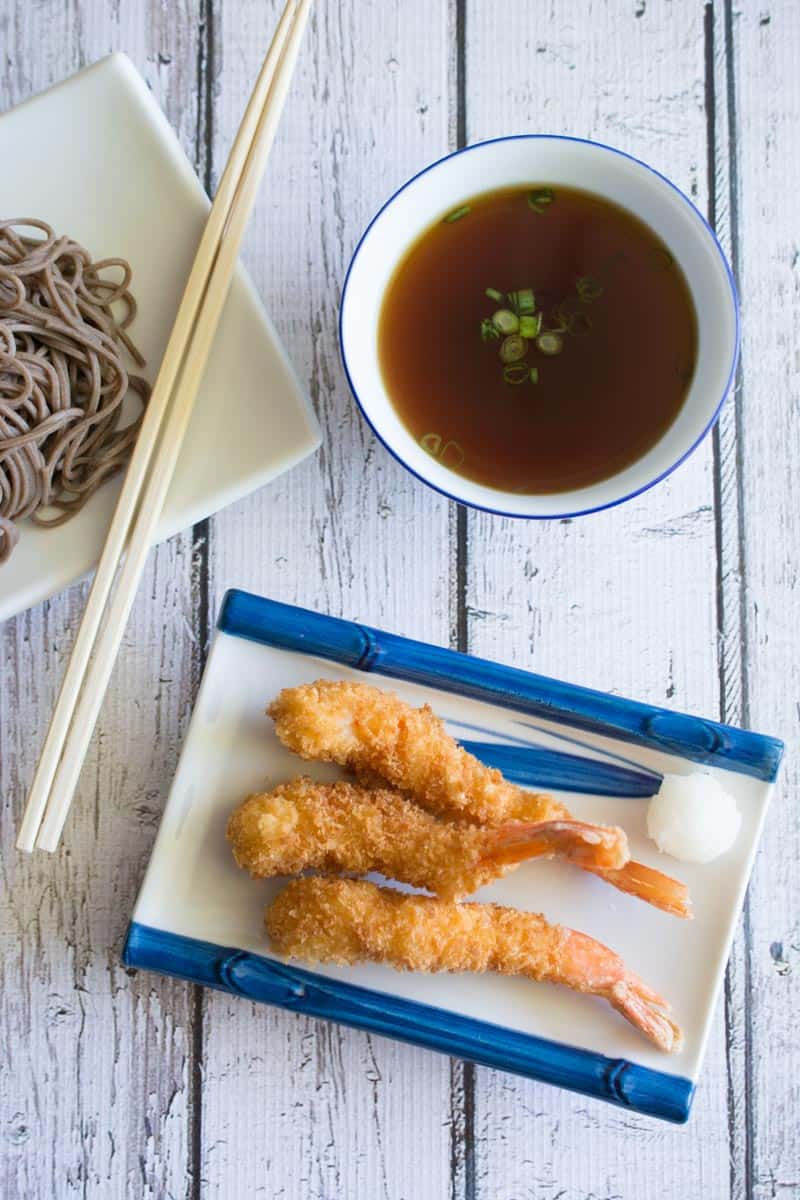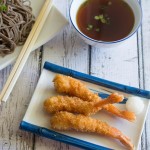 Easy Shrimp Tempura
Ingredients
10

shrimp

peeled, tail on

1

cup

flour

2

cups

panko breadcrumbs

2

eggs

lightly beaten

cooking oil

grated daikon radish for garnish

optional
Instructions
Prepare the shrimp. Make 4 - 5 vertical incisions across the belly of the shrimp. Flip the shrimp over and using your fingertips, squeeze the sides of the shrimp while pressing down. Pat dry with paper towel.

Heat up cooking oil (enough to deep-fry)

Dredge in flour, dip in egg, then cover in panko breadcrumbs.

Fry until golden brown.
Nutrition Facts
Easy Shrimp Tempura
Amount Per Serving
Calories 278
Calories from Fat 36
% Daily Value*
Total Fat 4g 6%
Cholesterol 119mg 40%
Sodium 368mg 15%
Potassium 134mg 4%
Total Carbohydrates 45g 15%
Protein 13g 26%
* Percent Daily Values are based on a 2000 calorie diet.