An easy weeknight-friendly meatloaf recipe that takes just minutes to put together and 45 minutes to bake. This has become a go-to recipe for our family!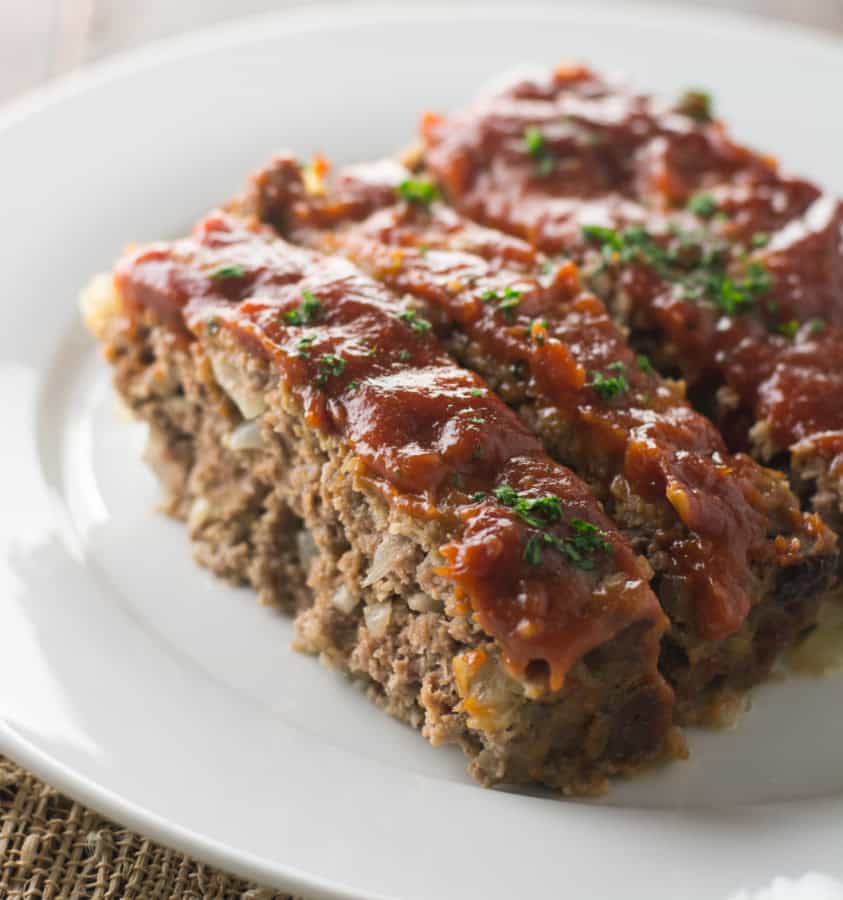 This Super Duper Easy Meatloaf recipe just takes just a few minutes to put together, 45 minutes to cook and VOILA! A satisfying, comfort meal after a long day. The perfect weeknight meal. Your whole kitchen will smell amazing as well!
The sauce on the top isn't just plain ol' ketchup. Well, there is ketchup, but it features a secret ingredient – ground mustard! The ground mustard gives the sauce an incredible kick. Once it starts to cook in the oven, it will fill your kitchen with a wonderful aroma that will have your family checking in every 5 minutes saying "Is dinner ready yet???"
First preheat your oven to 375 degrees F.
Simply toss your meatloaf ingredients (1 1/2 pounds of ground beef, 1 egg, 1 teaspoon of garlic powder, salt and pepper, 1 small diced onion, 1 cup of oats and 1 cup of panko breadcrumbs) into a mixer bowl.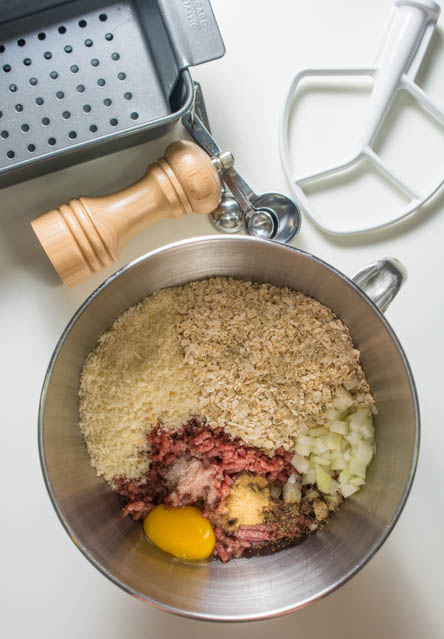 Set your stand mixer
 to "Low" and mix only until all of the ingredients are well incorporated; this should take only about 20 – 30 seconds.
Using a stand mixer will help you ensure that all of the ingredients are mixed very well together. You can certainly also use your hands to mix these ingredients. If you do, I recommend using disposable gloves
 to keep your hands clean.
Transfer the meat mixture into a loaf pan.
I highly recommend using a meatloaf set. It makes it so much easier to get the meatloaf out of the pan. Plus, it drains a lot of the fat while it cooks. I use this one and I LOVE it: Chicago Metallic Non Stick Healthy Meatloaf Set.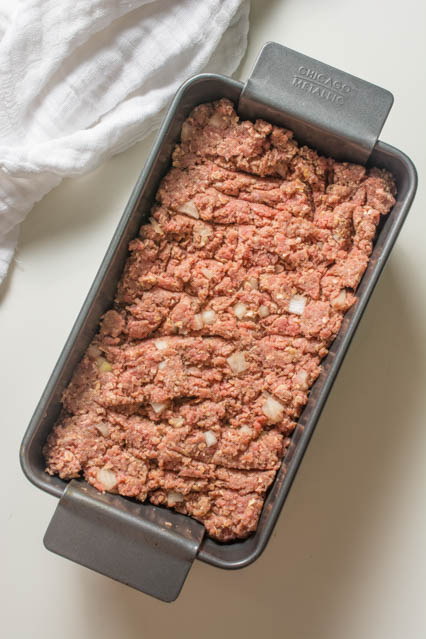 In a small bowl, mix 1 1/2 cups of ketchup, 1 1/2 teaspoons of Worcestershire sauce and 2 teaspoons ground mustard. Set aside about 1/2 a cup of the sauce if you'd like some dipping sauce on the side.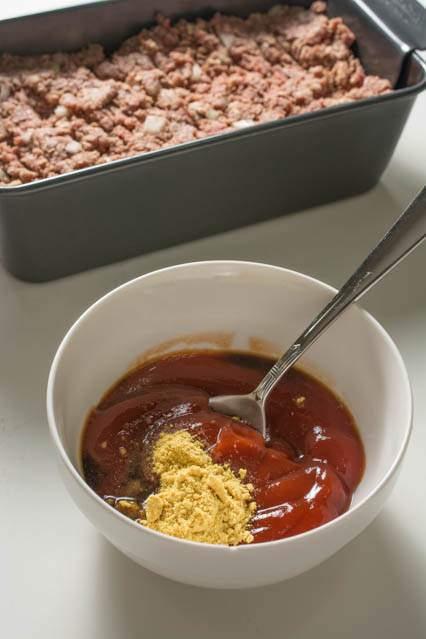 Pour the rest of the sauce on to the meatloaf and spoon it evenly throughout the top of the meatloaf.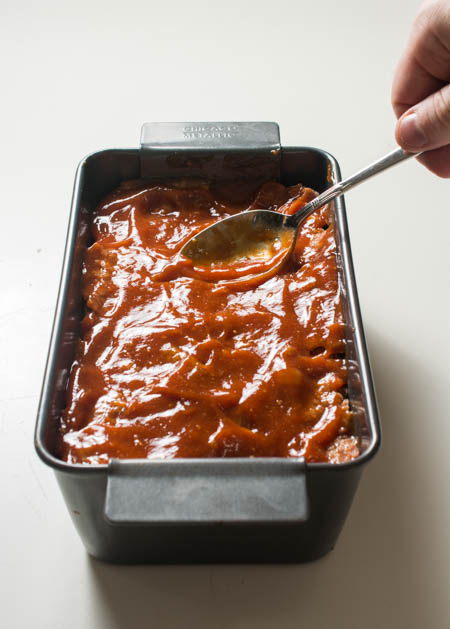 Bake it at 375 degress F for 45 minutes.
Let the meatloaf rest for about 10 minutes before you transfer it to a serving dish.
Serve with your favorite side dish! Enjoy!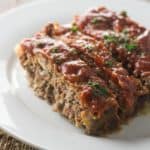 Super Duper Easy Meatloaf
Instructions
Preheat oven to 375 degrees F.

Mix ground beef, egg, salt and pepper, garlic powder, onion, oats, and breadcrumbs in a mixer (You can also mix this by hand but it's so much easier using a KitchenAid!)

Put meat mixture in meatloaf pan (or a regular loaf pan).

In a separate bowl, combine ketchup, Worcestershire sauce and ground mustard. Mix well.

Set aside about 1/2 a cup of the sauce for dipping if you wish. Pour the rest of the sauce on to the meatloaf and use the back of a spoon to spread it evenly throughout the meatloaf's surface.

Bake for 45 minutes.

Enjoy!!
Nutrition Facts
Super Duper Easy Meatloaf
Amount Per Serving
Calories 84
Calories from Fat 36
% Daily Value*
Total Fat 4g 6%
Cholesterol 40mg 13%
Sodium 227mg 9%
Potassium 105mg 3%
Total Carbohydrates 5g 2%
Protein 4g 8%
* Percent Daily Values are based on a 2000 calorie diet.