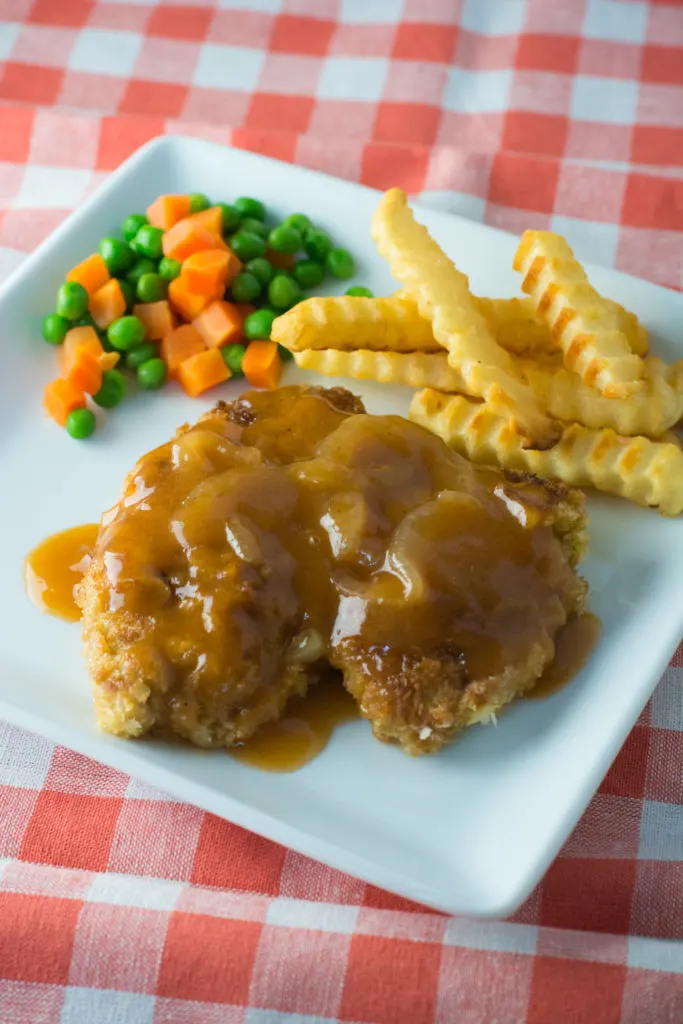 Growing up in Malaysia, I remember Chicken Chop being on the menu on all "Western Food" hawker food carts. It was one of my favorite "Western" dishes.
Super tender chicken wrapped in a crunchy batter, smothered in a rich tomato mushroom sauce. I'm not really sure why they call it Chicken Chop – maybe because there's pork chop and lamb chop, so why not call it chicken chop?
As you can imagine, when I moved to Oregon, I was surprised to discover that Chicken Chop was nowhere to be found!
So, I decided to try to make my own. After several failed attempts, I finally got the recipe how I like it (and how I remember it) so I'm really excited to share this with you.
The chicken is marinated in Worcestershire sauce and soy sauce for a few hours (or overnight) so not only is it super moist; it's so flavorful.
It's so good that you could eat it on its own, but why not knock it out of the park with the SAUCE?? Oh my gosh, the yummy tomato-y sauce…..just gotta try it.
(ps – If you're looking for the Chicken Chop with Black Pepper Sauce, click HERE for that recipe)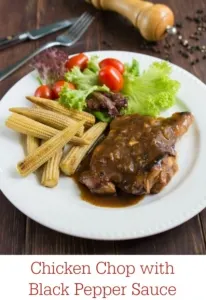 Traditionally, the drumstick + thigh portion is used for Chicken Chop (de-boned, of course). Here's a video on how the bone is removed from the thigh and the drumstick at the same time:
Watch on YouTube: Chicken Chop Cut
However, you can just use boneless, skinless chicken thighs. That's probably easier to find at the grocery store. We're going to be using 4 to 6 pieces here in this recipe. Place a plastic wrap over the chicken thighs then pound it with a meat tenderizer
until it is about half an inch thick. This will help ensure that the whole piece will cook evenly.
Put the chicken in a ziploc bag, then add 2 tablespoons of soy sauce and 2 tablespoons of Worcestershire sauce. Seal the bag, and shake to mix it well, then gently massage the sauce into the chicken. Let it marinate in the fridge for at least 3 hours or even better, overnight.
Right before you're ready to cook the chicken, prepare the sauce. Oh my gosh, this sauce is so yummy…
Melt 2 tablespoons of butter in a small saucepan over medium-low heat. Add one small onion (cut into rings) and 1/4 cup sliced mushrooms. Saute for about 2 minutes or until the onions are soft and translucent.
Then, add 4 tablespoons of ketchup, 1 teaspoon of chicken bouillon powder, 2 tablespoons of water, 1 tablespoon of brown sugar, and finally, 1 teaspoon of corn starch mixed with another 2 tablespoons of water. Bring it to a boil and stir constantly until the sauce thickens up a bit. This will only take a few seconds so don't walk away from the stove. Set the sauce aside when ready.
Now we're ready to fry the chicken. Heat up cooking oil over medium-high heat in a skillet or large frying pan. There should be enough oil that when you put the chicken into the pan, the oil covers about 1/3 of the chicken. If you have a deep fryer
, you can also utilize that.
First, dip each piece of chicken in flour, then in egg, then into Panko breadcrumbs. In that order. Fry till golden brown on each side.
Serve with your favorite side dishes – french fries, steamed vegetables, salad, etc.
Pour the sauce over the chicken chop right before serving.
Enjoy!
Since we're talking about Chicken Chop, check out this article for a good chuckle:
http://www.straitstimes.com/news/asia/south-east-asia/story/malaysian-student-diagnosed-chicken-chop-mc-20150303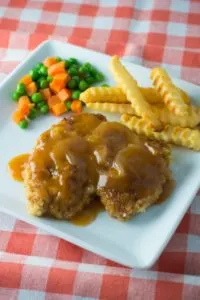 Malaysian Chicken Chop
Ingredients
Sauce:

2

Tbsp

butter

1

small onion

cut into thin rings

1/4

cup

sliced mushrooms

4

Tbsp

ketchup

1

tsp

chicken bouillon powder

2

Tbsp

water

1

Tbsp

brown sugar

1

tsp

corn starch mixed with 2 Tbsp water

Chicken:

4 - 6

pieces

boneless

skinless, chicken thighs

2

Tbsp

soy sauce

2

Tbsp

Worcestershire sauce

2

eggs

beaten

2

cups

flour

2

cups

panko breadcrumbs

Oil for frying
Instructions
Pound the chicken to medium thickness (about 1/2 an inch thick)

Place chicken in a large zliploc bag. Add soy sauce and Worcestershire Sauce. Mix well. Let marinade for at least 3 hours or overnight.

In a small saucepan, melt the butter over medium heat. Add onion and mushrooms. Saute until onions are soft (approx 2 mins)

Add ketchup, chicken bouillon powder, water, brown sugar and corn starch mixture. Bring to boil, stirring until the sauce thickens up a little bit. Turn off heat; set aside.

Heat up cooking oil over medium heat in a skillet or large frying pan.

Dip chicken in flour, dip in egg wash, then into breadcrumbs.

Fry chicken till golden brown on each side.

Serve with french fries and your choice of veggies. Gotta have french fries, though...cause they're yummy. Pour sauce over chicken just before serving.
Nutrition
Serving:
1
g
Calories:
3543
kcal
Carbohydrates:
396
g
Protein:
236
g
Fat:
113
g
Saturated Fat:
38
g
Polyunsaturated Fat:
69
g
Trans Fat:
1
g
Cholesterol:
1253
mg
Sodium:
6294
mg
Fiber:
19
g
Sugar:
47
g