Teh Tarik (literally translated "Pulled Tea") is a rich and creamy tea from Malaysia that is gaining popularity all over the world. The tea is skillfully poured from one jug to another to create the magical froth on the top.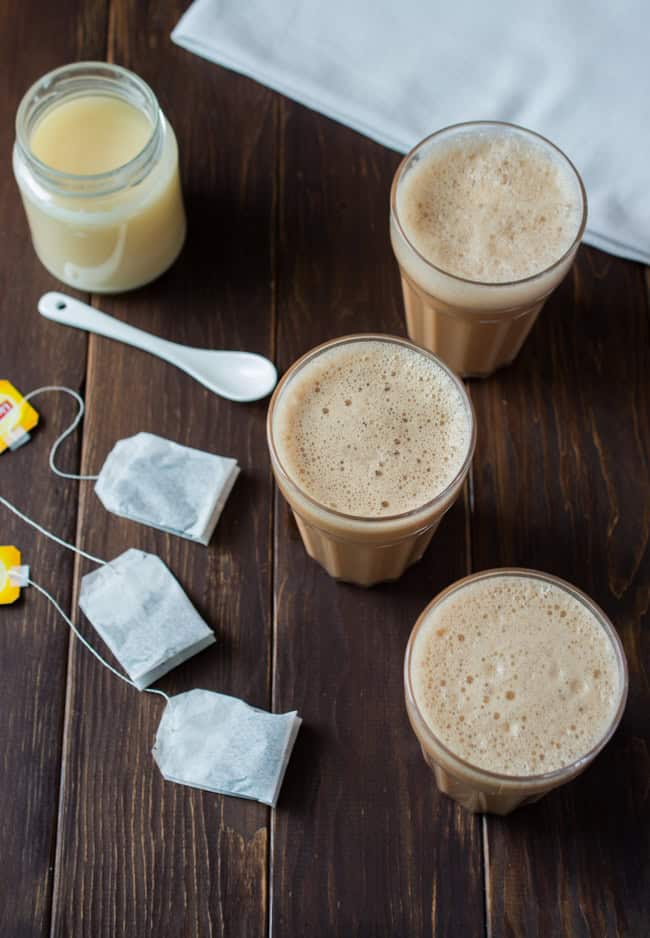 Teh Tarik (Malaysian Pulled Tea) can be found in coffee shops ("kopitiam") and mamak stalls all over Malaysia. It's slowly gaining popularity all over the world. It's simple and inexpensive but it is heavenly. Malaysians have adopted Teh Tarik as the country's national drink.
What makes this drink so unique is the way it's prepared. The tea is poured from one jug to another repeatedly. While it's being poured, the distance between the jugs becomes wider and wider, creating an illusion that the long stream of tea is being "pulled" in mid-air. Some people can do some crazy stunts with this tea pulling action! (check out the video at the bottom of this post!)
Tea pulling is not just for showmanship – it introduces air into the tea, which creates a nice froth on the top. Before I scare you away, I'll let you know that I'm about to reveal a method of making Teh Tarik that does NOT require pouring the tea from one jug to another if you're not comfortable with that 🙂 As they say in Malaysia, "Relax, lah…"
Traditionally, tea dust is used but we're keeping things super simple today and just using Black Tea bags (also, it may be a challenge to find tea dust if you're outside Malaysia). Steep 1 tea bag in 8 oz of hot water for about 5 minutes.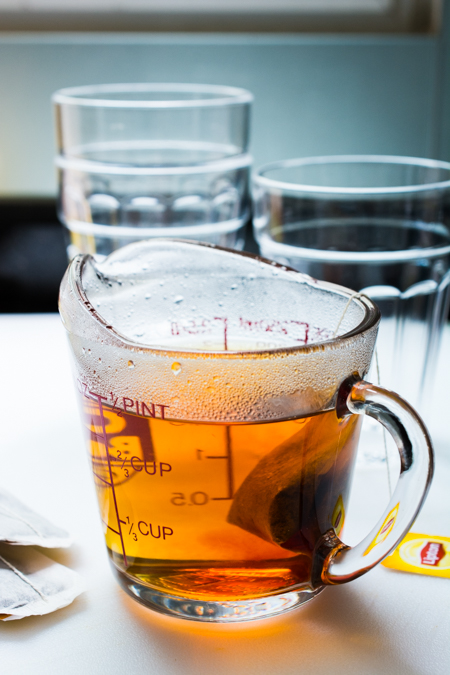 Add 4 tablespoons of Sweetened Condensed Milk.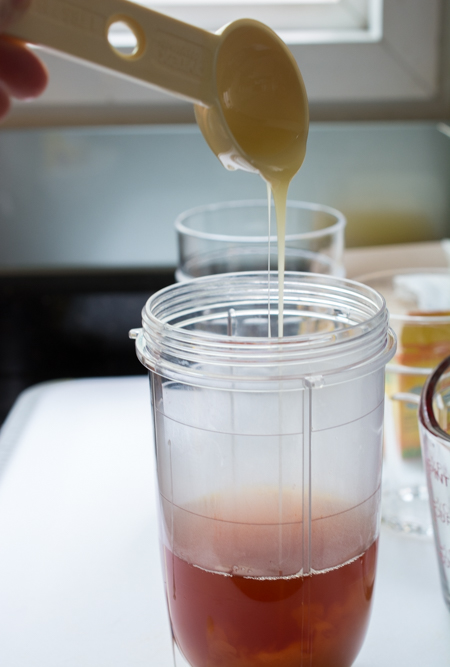 Option A: Use a blender to blend the tea for just a few seconds. I love love LOVE my Magic Bullet Blender for this task. It's small, compact and convenient. I can make myself a cup of Teh Tarik anytime!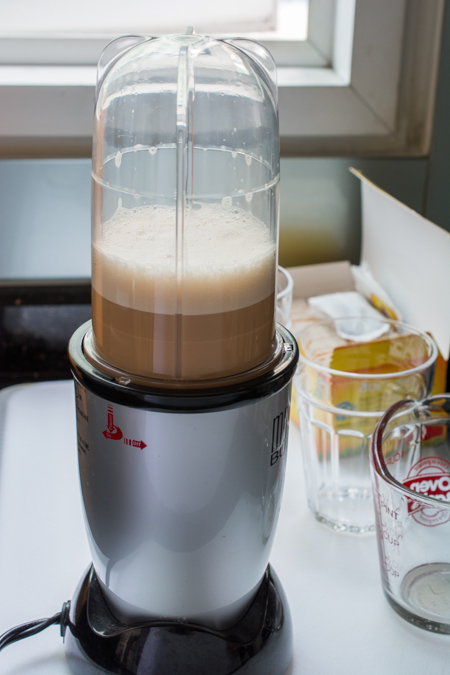 Option B: If you're feeling daring, pour the tea from one glass to another. I highly recommend that you do this over the kitchen sink as there will be spills. Use the biggest mugs that you have. Please be careful not to burn yourself! Start low and slow, then slowly increase your speed and the distance between both mugs as you pull the tea. Do this repeatedly until you see lots of froth on the tea. It should take about 10 pours or so for this to happen.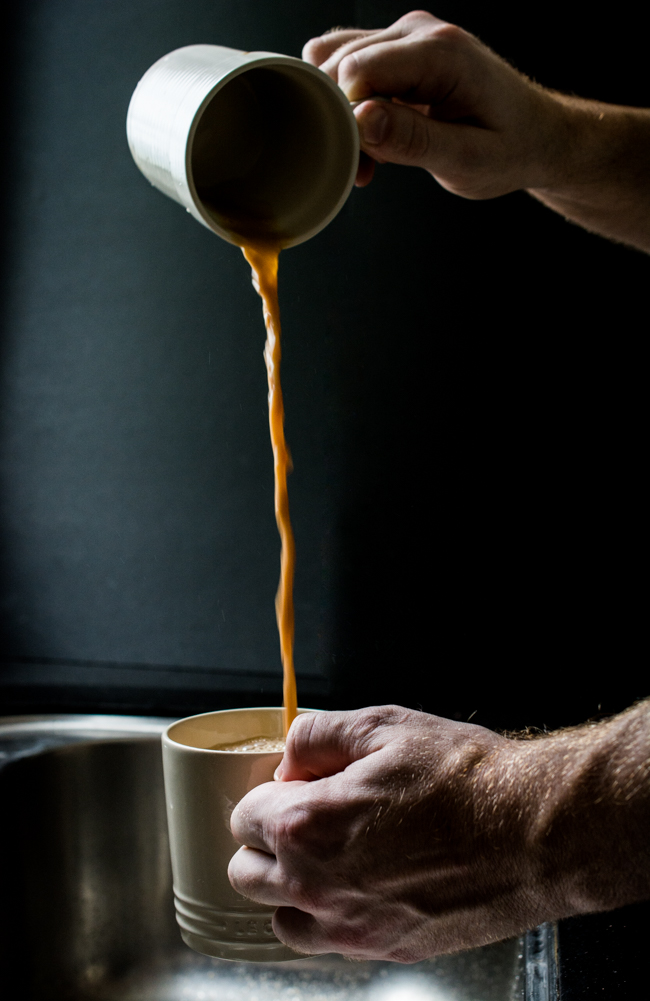 Speaking of pulling tea, check out this video of these Teh Tarik experts doing some crazy stunts!! Warning: Do NOT try this at home!
I've found that using the blender gives the tea a finer bubbly froth while stretching the tea using the mugs gives it fairly large bubbles. Give both methods a try and see which one you prefer!
Enjoy!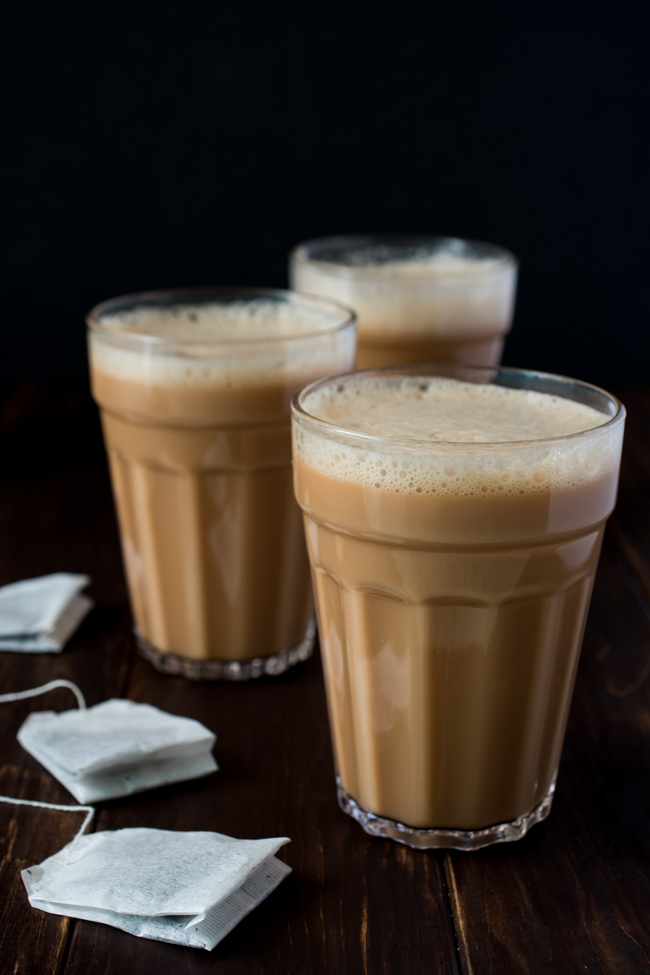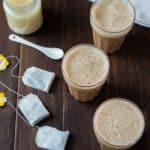 Teh Tarik (Malaysian Pulled Tea)
Instructions
Place the tea bag in the hot water. Allow the tea to steep for about 5 minutes.

Add sweetened condensed milk.

Either mix the tea in a blender for a few seconds, or "pull" the tea by pouring it from one mug to another until frothy on the top.

Enjoy!
Never miss a recipe!
Get my newest recipes right in your email inbox. AND get a free copy of my Top 10 Easy Weeknight Recipes e-cookbook!
Thank you!!
Something went wrong.